The Goddess Box: International Women's Month
Puberty is probably one of the most awkward and almost-unbearable stages of our lives. People's bodies start to change in various ways, and it can be incredibly hard to be able to figure out what is going on even with guidance from parents or guardians. These years are, perhaps, especially dreadful for those going through their menstrual cycle. From painful cramps to the risk of walking around with an unflattering stain on your pants, menstruating individuals may find it hard to function throughout the 3-7 days they may experience it. Our society also adds fuel to the fire by creating the stigma around catamenia that shames people that are just going through a natural process.
The Girls Helping Girls Club, organized by Becton teacher Jahn Maka, works on establishing female empowerment. The club has built up its credit with many charitable events from bake sales for breast cancer to bringing awareness on the issues of domestic violence. Club members share relatively the same rank, and they all work together to gather ideas for social changes in the community. Maka and the club members came up with a fantastic idea to help ease the apprehension that comes with "that time of the month."
The Goddess Box, the club's latest project, was created to ensure the comfort of menstruating people at school. The box is located in the Child Study Office on the second floor near the math and history hallways. "Once you enter the office, you will see a black shelf with the blue box and our goddess box logo," Maka discloses. Although the nurse has always provided students with pads, tampons, etc., Maka clarifies that, "Some felt that in situations where there was an "emergency," they did not feel comfortable going all the way down to the nurse, especially when there were people in there… it was more convenient to have a place on the second floor that was closer to both bathrooms."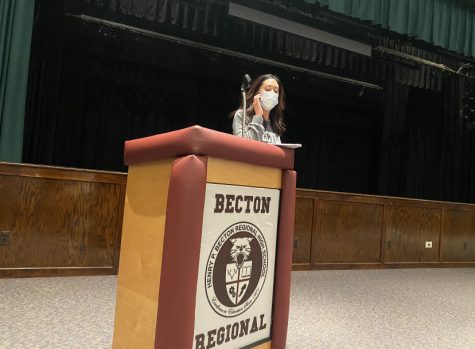 Club member Madison Knueppel came up with the name as the group members spilled words they could use. Knueppel explains, "…it sounded pretty to me – it sounded empowering… so we wanted to take it and make it into our thing." Another talented member, Kacie Lu, designed the beautiful logo that can be found on signs advertising the box. Lu did not want a plain piece of work to represent the box but rather, "… a goddess that represents [her] interpretation of menstruation." Lu also mentioned that the purpose of the flower crown was to be a "…[representation of] how menstruation is a natural process and should be embraced rather than be a topic of shame." She set out to design the staple for the Goddess Box as something empowering with a touch of feminine, and nailed it!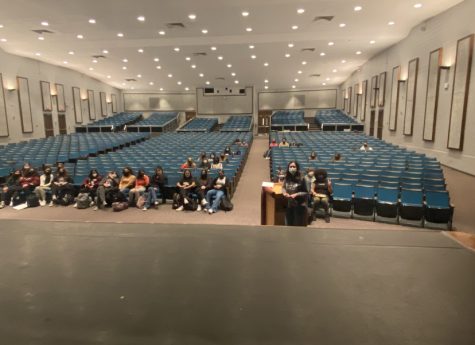 Many schools across the country lack the basic supplies menstruating students need in order to be able to get through the school day comfortably. Knueppel expresses her feelings towards school in general and the way they handle supply. She urges schools to, "…keep up with the changes in products like the variety of sizes of pads and tampons." She feels schools should be more accessible with students' access to pads, tampons, and sanitary wipes. "Coming to school and not having what you need is very scary," the outspoken student reveals, "Having a place where you can run to just in case makes us feel safer, and it's also good for those of us that just forget to put something in our bags before class." Also, students whose families cannot afford to buy menstrual supplies may feel just a bit more grateful that their school can provide it for them as well.
Becton and many schools across the country have made adjustments to make menstruating individuals feel more confident coming to school during the menstrual cycle. Whether it be a school nurse providing supplies or acts like the Goddess Box, efforts made by educational institutions will slowly, but surely relieve the anguish brought by generations of indignity toward this womanly process!
About the Contributor
Aurora Marin, Staff Writer
Aurora Marin is a senior at Becton who is flourishing with the guidance of music! Music plays an important role in Aurora's life. Aurora appreciates...