Ms. Maher Pairs with the Becton Student Special Services Department
Chelsea Maher is the Student Engagement Counselor here at Becton Regional High School. Working in the student special services department allows her to discuss topics, such as mental health, directly to the student body. Her is goal is to emphasize to students how important the prioritization of self-care is even at a young age. Maher started her journey at Becton last year as a volunteer in assisting and promoting mental health awareness, as well as helping the students with their obstacles during the COVID-19 pandemic. Maher shares, "Becton is a place that cares about their students' well being." Because Maher has the same goal, it has made it easier for her to fully immerse herself confidently into her roles here at Becton. For Maher, it is definitely "about the kids." Furthermore, Maher had also taken her previous role last year beyond expectation by reinstating the Peer Mentor Program at Becton. This program allowed the upperclassmen to partake in bonding activities with the underclassmen, so that they can familiarize them with our school community. "The first step, is always creating a comfortable environment for students to feel at ease," Maher says.  All of this experience has equipped Maher to advance her title and responsibilities at Becton in the new, 2021-2022 school year. 
As the Student Engagement Counselor, Maher manages student attendance, checks on students and their families, encourages mental health awareness, increases student engagement, and overall promotes a positive school environment. This position was created just for Maher, since she devoted herself so laboriously to our school. With the transition from volunteering to becoming a permanent member of the Becton family, she describes, "Everyone here from the start was so welcoming that I already felt part of the team." She feels especially welcomed by Ms. Sass who says, "It's clear Ms. Maher is really passionate about her responsibilities here at Becton. She's a conscientious counselor who is always going above and beyond to check in with students and she genuinely cares about students' lives beyond the classroom." Ms. Polmann can also attest to Maher's reliability in the position, "Ms. Maher is always someone you can count on. If you ever need an answer or a solution, she has it. She has really been a uniting front for Becton." As seen, Maher is a valuable addition to Becton's staff especially in her specific field. 
Outside of Becton, Maher has completed her studies at the County College of Morris and Caldwell University to achieve the higher education she carries in her back pocket. Maher has an associate's degree in Liberal Arts, a bachelor in Psychology, a masters in Counseling, with a specialization in School Counseling. To add to her impressive résumé, she has completed a post master's licensing program to become a licensed mental health counselor. Furthermore, Maher's thesis was awarded "Pass with Distinction," and was used as an example amongst her peers, which she grasps with colossal pride. Maher has taken all of her professional and personal skills to Becton to serve as a mentor for our students, which already has proved to be rewarding!
About the Contributor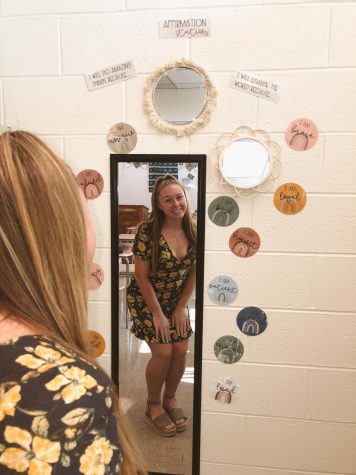 Amanda Hasch, Co-Editor in Chief
Amanda Hasch is currently a senior and is wrapping up her high school experience at Becton Regional High School. She has truly enjoyed her time in high...