Communications students gain a behind-the-scenes look at Good Morning America
Becton Regional High School's Journalism, Mass Media, and TV Broadcasting students experienced a live-taping of Good Morning America at the start of this month.
The 7 a.m. show included segments such as weather anchor Ginger Zee broadcasting live from the Iguazu Falls in Argentina and a performance by R&B singer Khalid.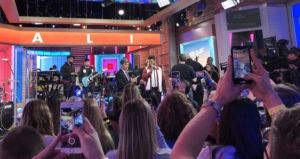 The opportunity to visit the set was made possible by GMA script coordinator and Becton Class of 2007 graduate Phil McCrickard. "The job can definitely be stressful, but it's also very fun," Phil shared with the classes. "That's what has kept me here for seven years."
The highlight of the trip for many students was Khalid's performance, especially due to the fact that their seats were directly in front of the stage during the show.
During commercial breaks, host Michael Strahan made his way around the studio to take pictures with audience members, and after the live-taping was completed, the audience each received a Marvel's Avengers Iron Man action figure as a tribute to an earlier segment where children reviewed Marvel toys.
After the show, Phil guided students on a detailed tour of the studio. He took them behind the scenes of the control room as well as the main stage where the anchors deliver primary news stories during the first half of the show. Here, the classes met with Stage Manager Eddie Luisi, who operates the cameras and helps to edit the popular morning show. 
Eddie led a discussion with students on his role as a stage manager and the steps he took to land himself in this career field. He also offered advice on how to achieve a job in the journalism field or specifically on a morning show.
"Career-wise, life is not a linear path. Unless you're going to be a doctor or a lawyer, you're not just going one way. If you want to be on a show like Good Morning America, you could be a journalism major, a media major, or even major in history or religion because shows like this cover so much," he shared.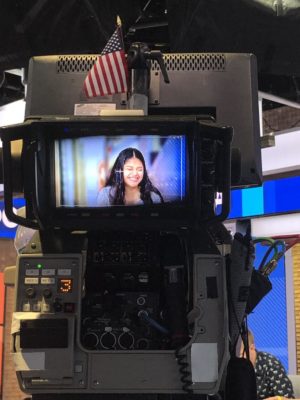 Eddie previously worked in Lenox Hill Hospital in Manhattan, New York before venturing into the world of broadcasting. He urged Becton students to make themselves skilled in every aspect of the field. "Anyone can write or broadcast if you're working in TV, but tell me all the extra things you can contribute," he said.
Phil then educated Becton students on his role as a script coordinator. He went into detail on how the scripts can change from one moment to the next, so he constantly has to keep up with last minute adjustments and make sure that everyone is following along throughout the show's taping. He explained how he received his job by working on various internships and after handing in a resume to a Good Morning America employee at a senior seminar at Montclair State University. "Do the internships and keep bothering people," he joked.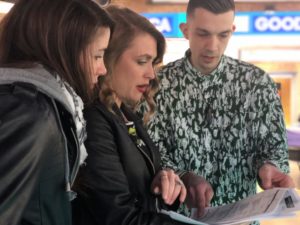 "I think we were really fortunate to have this opportunity," said Junior Monsie Martinez. "Trips like this inspire students and demonstrate what they can achieve."
"It was a unique experience," added Sophomore Aminah Iqbal.
About the Contributors
Noelia Moore, Editor-in-Chief
Noelia is thrilled to return to the Cat's Eye View for her senior year as our editor-in-chief as she completes an independent journalism internship....