Becton alumna raises thousands for multiple sclerosis awareness
Class of 2007's Jamie Woyce prepares to run race across several states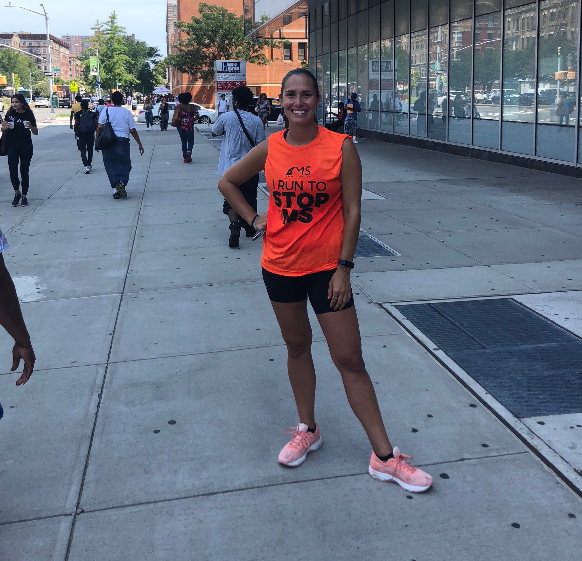 Jamie Woyce, a Becton Regional High School Class of 2007 graduate, has joined her alma mater in an effort to help raise $10,000, which will allow her to participate in the MS Run the US Relay Race. The purpose of the 3,260-mile relay is to raise awareness for multiple sclerosis.
The Becton alumna is currently a cross-country and track & field coach at Cliffside Park High School and began fundraising for the relay race after she and her team ran across the George Washington Bridge. There, she met runners who were finishing the 2017 annual MS Run the US Relay.
Each year, the marathon starts in April in Santa Monica, CA and finishes in August in New York City. Jamie will be running the last leg of the race, which spans from Pennsylvania to NYC. She will be running approximately 25-30 miles each day until she finishes the race, and her goal is to complete the 188-mile run in seven days.
This fundraiser means a lot to Jamie because her sister, Michelle Woyce, was diagnosed with multiple sclerosis when Jamie was just a freshman in high school. Michelle has relapsing-remitting multiple sclerosis that forces her to use a walker or wheelchair to get around. Jamie is running this relay as a way to show support for her sister and others who suffer from this disease.
Multiple sclerosis, commonly known as MS, is a disease brought on by unknown causes that attack the central nervous system and disrupt the transmission flow between the brain and the body.
Appreciating the opportunity to spread awareness and raise money for MS, the athlete jumped at the chance to be a member of the 2019 relay team. Jamie said that she was inspired to partake in the race after she "watched her sister's health decline over so many years." She figured that running in the relay race would be "the least she could do to help her sister and all those suffering." The strength, motivation, and positive attitude she continues to have come from her sister and others who are fighting MS.
Becton History Teacher Mr. Ryan, who had Jamie as a student, describes her as an "intelligent, straight-A student, and a two-sport athlete."
Mr. Ryan organized a Jean Day fundraiser on March 22 for all Becton staff and is currently spearheading a Spring-Gram fundraiser with the help of Ms. Klamerus and Ms. Colangelo to continue to raise money. Students and staff can purchase a Spring-Gram from members of the National Honor Society or Peer Leadership group and have it delivered to someone in school. The cost is one dollar, and the grams will be delivered in a container with a marshmallow Peep inside.
At the moment, the former Becton graduate has been training for the relay and will be doing exercises such as "long runs, weight lifting, and swimming, as well as balance and mental preparation." As the race begins to grow closer, Woyce's runs and workouts will begin to get longer.
The Woyce family has created a campaign page in order to help them reach their fundraising goal. Donations made will be used to support the MS Run the US Relay teams and aid in finding a cure for the disease. Jamie said that she also plans on visiting local businesses and continuing to run marathons "in hopes of raising awareness and money to find a cure for MS."
If interested in donating, please visit the following site to show your support and help find a cure for the disease.
About the Contributor
Aminah Iqbal, Staff Writer
Aminah is a fifteen year old sophomore at Becton. She is very shy and socially awkward around new people, but once you get to know her, she can be the...