Above Average State Score Validates Becton Regional HS's Recognition as 'Model High School'
The Henry P. Becton Regional High School community would like to take this opportunity to share the school's recently released NJ School Performance Report summative score. We are proud to announce that Becton Regional High School earned the highest score compared to all NJ high schools within its *District Factor Group (DFG) and performed well compared to other Bergen County high schools, according to the school performance report.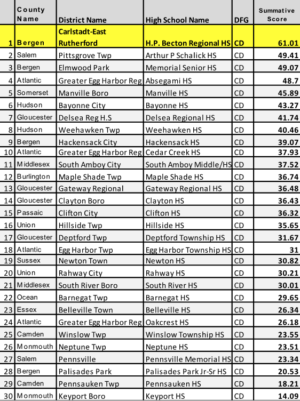 The NJ Department of Education has joined approximately 45 states nationwide by adopting a form of summative score of 1-100, whose purpose is to provide a snapshot of a school district.
We would like to break down what this number means for our Becton school community.
The recently released report analyzes and weighs factors such as a high school's four-year graduation rate, five-year graduation rate, progress toward English language proficiency, math proficiency, and chronic absenteeism. A few additional factors that are also taken into account include college & career readiness, school climate & environment, and student discipline.
In order to illustrate Becton Regional High School's score even further, we have included the second graphic of high schools in the surrounding area, along with their earned score. Some high schools with slightly higher, but similar scores as ours, include Midland Park Jr./Sr. HS, Leonia HS, Waldwick HS, Saddle Brook HS, and Teaneck HS.
Last spring, the NJDOE celebrated the exponential growth of our graduation rate over the past few years (95%) and commended us for implementing a "flexible and diversified class schedule, common lunch period, career-focused courses, and an internship and dual-enrollment (college credit) program." Our "Future Ready" commitment is also being recognized by the NJDOE as a school that has implemented "digital learning upgrades focused on innovation across the curriculum."
Along with informing you of our school's summative score, we would like to highlight how we are continuing our success as a model high school beyond just test scores:
Most importantly, in addition to our continuing success, the Becton Regional HS staff gives our students the opportunity to succeed because we believe that it's all about
"Every Student, Every Day, Whatever It Takes!"
*The DFG is the closest possible indicator a school can use when comparing themselves to another school that is similar to theirs. "The DFGs represent an approximate measure of a community's relative socioeconomic status (SES). The classification system provides a useful tool for examining student achievement and comparing similarly-situated school districts in other analyses." (NJDOE)