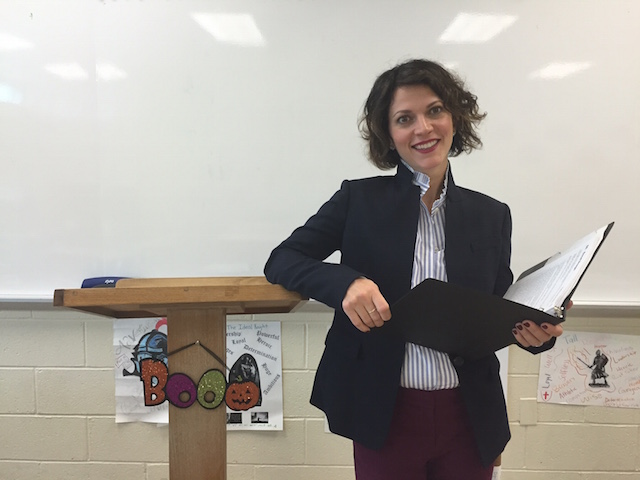 Becton Dual Enrollment Program continues to expand
Seniors given opportunity to earn college credits at a nominal cost
October 22, 2015
The administration and faculty have recently been working with Bergen Community College to continue to implement a dual enrollment program at Henry P. Becton Regional High School.
This is the second year that the high school has had a dual enrollment program, and with the new school year, classes such as English 12 CP, AP Statistics and AP Physics I have been approved and added, in addition to the already approved AP Chemistry, AP Physics B, AP Biology and AP US History classes.
The goal of the program, which allows secondary education students to earn college credits in a specific subject area, is to give more opportunities for students to afford and get a jumpstart on their college education.
"I am thrilled to give these students and their families the opportunity to save money on a college education, which as we know, is a huge expense," said Mrs. Gatto, the dual enrollment instructor for the English 12 CP course. Mrs. Gatto previously taught at Montclair State University for four to five years before becoming a Becton staff member and is excited to have the opportunity to teach a dual enrollment class.
In order for a student to take advantage of the Becton Dual Enrollment Program and receive credits from a local institution of higher learning, he or she needs to fill out a form and pay for the credits. One of the many benefits of using the dual enrollment program as opposed to taking the course in college is that the credits are much cheaper at this moment versus when enrolled at a college. Through dual enrollment, one credit costs $67.50 while usually, a single credit can cost well over one thousand dollars with current college tuition prices. Should  students be eligible for free or reduced lunch, all they pay is the $15 registration fee, and they can take as many courses as they want for free through the Becton/BCC partnership.
"
The reduced rates colleges are offering for dual enrollment programs is extremely beneficial to our students."
— Dr. Sforza
"The reduced rates colleges are offering for dual enrollment programs is extremely beneficial to our students. This is especially true for our students on free or reduced lunch who are essentially getting free college credits by only paying the small fifteen dollar BCC registration fee," stated Principal Dr. Sforza.
Dr. Sforza is pleased that the English 12 CP course was approved for dual enrollment as it is usually reserved for AP courses. "This allows students who aren't necessarily AP ready to also have an opportunity to have a head start on their college careers. At the same time, it also follows the current college trend, which is schools are no longer simply looking at a student's testing scores, but more at his or her entire high school career. Furthermore, the dual enrollment program can help students not only get into the college of their choice, but also be prepared for the rigor associated with college level work."
The Becton principal is also looking to further expand the program by working with more colleges such as William Paterson University, Fairleigh Dickenson University, New Jersey Institute of Technology (NJIT) and Felician College. The vision is to eventually have Becton students graduate high school with an entire semester worth of college credits already completed. He sees this as an excellent opportunity for future students as well as students who are currently applying to college and urges everyone to consider signing up for the opportunity.