January Student of the Month: Maya Dobrygowski
Additional Class of 2019 Students of the Month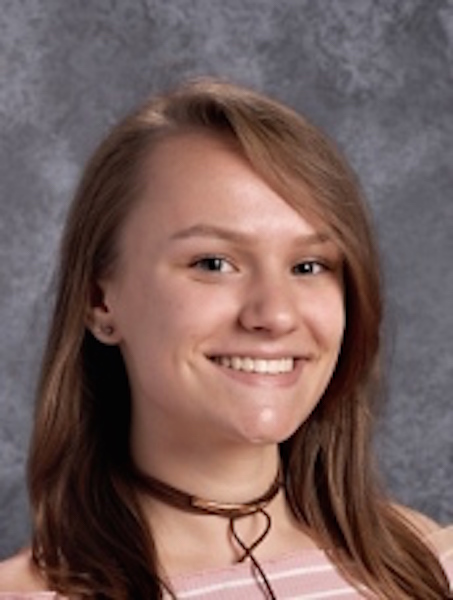 Maya Dobrygowski has been selected as Becton Regional High School's January Student of the Month due to her strong performance throughout all four years of her high school career. The senior is currently ranked fourth in her class with a GPA of 97.
"Honestly, I feel really honored to be Student of the Month. I've worked so hard over these past four years and have involved myself in this school countless times. I feel like all my hard work has paid off in the best ways," said Maya.
The Student of the Month participates in a variety of activities in high school. She has been an active participant of Key Club, Girls Helping Girls, the Debate Team, the National Honor Society and Spanish Honor Society, and just this year, she co-founded Becton's P.A.W. Club.
An activity that Maya partakes in during after school hours is volunteering at the East Rutherford Memorial Library to help children with their reading skills. "We work on pronunciation, clarity of speech, and volume," she said.  She is also involved in different community service activities such as tricky trays, festivals, and children's events.
A few of the Student of the Month's favorite classes at Becton are AP English and Calculus Honors. "The reasons that I enjoy these classes are simple. They are really engaging and incredibly fun every single day. Sure, there are difficulties with concepts that are more difficult to grasp, however, in the end, these classes have really great moments that outweigh the hardships."
Maya considers all of the previous successful students that left a mark on Becton as her role models.  "Ever since I stepped into this school I've wanted to be someone who left a lasting mark on it, someone who really showed their potential," she stated.
To date, Maya has applied to five colleges, which include Seton Hall University, St. Francis University, Marywood University, Mercy College and William Paterson University and has been accepted into all of them.
After college, the honor student plans on becoming a speech therapist and special education teacher. She has decided to pursue a double major and graduate with a masters in both. "The reason that speech therapy drew me in so much was that it was a means of helping people without having to go through the grueling years of medical school. That's my honest reasoning. To be able to see people grow and develop skills that are so crucial to their life just seems like this incredible experience."
Those that have motivated the Student of the Month to succeed are her parents. "I would be a liar if I said that my parents weren't the reason for it. My mom and dad are the biggest reason that I keep myself motivated and focused, even through the toughest times and biggest hardships. I couldn't imagine letting them down or missing an opportunity that they basically provided me when they started life in America so many years ago. However, what also motivated me to keep working and focusing on school was myself. I have always dreamed of providing myself and my future family an easy and planned out life."
A technique that helps Maya deal with the pressure and stress of being at the top of her class is distracting herself. "It [the pressure] gets to me sometimes. There will be nights where I struggle with a subject and feel anxious that this one exam could drop my ranking. It's ridiculous, but that's what comes with always trying to maintain your grades. At the end of the day, I try my best to forget my ranking and just focus on getting good grades and being involved. I just engulf myself with volunteering and tumbling to get the pressure off my shoulders."
As for her advice to other Becton students who strive to become Student of the Month one day, it is to "get involved in your school and community."
About the Contributor
Misha Asim, Staff Writer
Misha Asim loves to hang out with her friends whenever she has the time and loves watching shows on Netflix. She enjoys hanging out with her sisters and...