Becton's first Wellness Center set to open this fall
English Instructor Mrs. Gatto is preparing for the unveiling of Becton Regional High School's first Wellness Center, which is a calming and safe place where students and teachers can find resources and practice methods to cultivate and maintain physical, emotional and mental wellness. The center itself will be a remodeled classroom located on the school's second floor near the history wing.
Mrs. Gatto, who is also a 200-hour yoga certified instructor, developed the idea for the space after last year's Mental Health Awareness Week when she taught yoga to Becton's physical education classes. "I had a much bigger response than I anticipated. A lot of students enjoyed it and told me how relaxed they felt." Afterward, she sensed that the teenagers needed a place with resources that could help them manage their stress and wanted to equip them with the tools to stay well. 
"
A lot of students…told me how relaxed they felt."
— Mrs. Gatto
Activities and classes that will be offered in the center include meditation, yoga, aromatherapy, and art therapy. Mrs. Gatto also plans on inviting outside speakers to discuss how to achieve wellness. Additionally, she is working toward spreading positive energy throughout the school by creating a Twitter account or Google Classroom page where she will post inspirational quotes, articles, and according to her, "anything that can help people find wellness."
Upon planning for the reveal of the center, the teacher has enlisted the help of Becton art students to create illustrations to display on the walls. "I still have to furnish and decorate it so that it feels like it's not even part of the school. I want it to be a truly centered and calming space," she explained. In order to achieve this goal, a rule against bringing technological devices into the room will be instilled to all that participate.
On November 21, the yoga instructor plans on visiting various gym classes to inform students about the future space, which will be open to all those interested during the common lunch.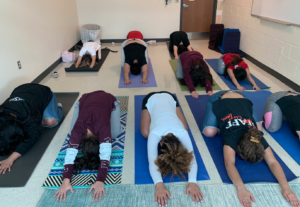 When asked how she hopes the Wellness Center will benefit the school, Mrs. Gatto responded, "I'm hoping that at an early stage students will find ways to feel a measure of control over their wellness and develop habits that will help them maintain wellness throughout their entire lives."
A talk meditation session is in the works for the end of this month and guided meditation is set to be added to the school's calendar for the month of December.
About the Contributor
Noelia Moore, Editor-in-Chief
Noelia is thrilled to return to the Cat's Eye View for her senior year as our editor-in-chief as she completes an independent journalism internship....