Netflix gains popularity around the world as well as at Becton
Hang on for a minute...we're trying to find some more stories you might like.
As of September 2014, Netflix has gained 50 million members in over 40 countries – 36 million in the United States alone – and is now worth over 28 billion dollars. Due to its success, the streaming company has been able to produce its own original programs, such as Emmy Award-winning shows like Orange is the New Black and House of Cards.
With so many users binge-watching Netflix, we decided to ask around the hallways to see what our Becton peers are viewing.
"I watch at least seven hours of Netflix a week. Right now I'm watching Friends and Blue Bloods, but I've already finished Friday Night Lights, The Walking Dead, Prison Break, and Breaking Bad, all of which I recommend," shared Senior John Zierold.
"I'm watching Gossip Girl and Grey's Anatomy right now. Before that, I watched American Horror Story, seasons one to three, and Orange is the New Black," stated Freshman Jessica Coleman.
Jessica was not the only one watching those shows, however. Junior Dekyi Tenzin and Sophomore Meyra Ventura also admitted their love for Gossip Girl, while English teacher Mrs. Gatto and Junior Sam Frola shared that they too enjoyed Orange is the New Black.
"I'm almost done with the seventh season of Gilmore Girls. I finished seasons one to six in about a month. Netflix is just about all I like to do," joked Senior Faith Banca.
"I'm currently going back and forth between Family Guy and Friends," Senior Christian Henriquez shared.
Despite Netflix's already sizable collection of TV shows and films, a few students wish to see shows added to the mix, including The Fresh Prince of Bel-Air, as well as Greek, which was recently removed.
"I was in the middle of season four of Greek when they took it off. I want it back!" expressed Senior Claudia Horan.
For $8.99 monthly, anyone can stream, rent, and enjoy over thousands of selections through a computer, mobile device, HDTV, set-top box, or Blu-Ray player.

About the Contributors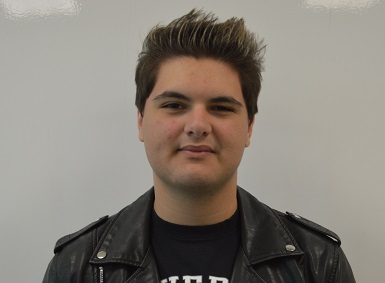 John Rotella, Staff Writer


During John's spare time he enjoys writing and publishing novels to Wattpad, drinking Starbucks, attending concerts, and binge watching television...