Taylor Swift is Bejeweled on her "Eras Tour"
On March 17, 2023, Taylor Swift kicked off the U.S. leg of her highly anticipated "The Eras Tour" at the sold-out State Farm Stadium in Glendale, Arizona. She blew open-night fans away with a setlist that spanned over three hours long with 44 songs across the board. The lengthy and showstopping setlist warranted 16 outfit changes, and the second night played at the stadium brought along a slew of new ones! She continued this routine for the recent shows in Las Vegas, Nevada, at the Allegiant Stadium. Throughout the course of three hours, Swift played at least one song from each of her albums, some of which have not been played in years, and some have never been. At two points of the concert, Swift played a surprise song on the guitar, and then the piano. The surprise songs so far have been: Mirrorball, Tim McGraw, State of Grace, This Is Me Trying, Our Song, Snow on the Beach, Cowboy Like Me (where she even brought out Marcus Mumford!), and White Horse. This is not a new occurrence at a Swift concert, as she has always frequently brought out guests and sang surprise songs to keep the hype and shock factor up. Judging by how every new show is quickly trending on multiple platforms, she does her job.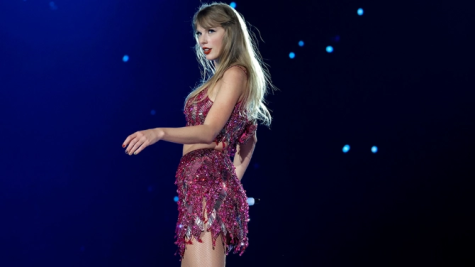 The three albums with the most songs present on the setlist are Midnights, where she performed seven, folklore, where she performed seven as well, and Lover, where she performed six. Considering these are all albums that never got their time to shine on stage due to the COVID-19 virus, they were rightfully done justice. She opens the tour with a mashup of Miss Americana & The Heartbreak Prince/Cruel Summer, both from the Lover album. Unfortunately, Speak Now, a highly loved fan favorite, only received one song on this setlist which would be Enchanted. This was most likely chosen because of its recent burst of popularity on the internet. Despite its lack of appearance on the setlist, many fans have taken to creating their show outfits based on the album, or directly recreating what Swift has worn herself. This is a well-worn tradition within the Swift community. Fans have been recreating Taylor's outfits for many years now. A very popular Speak Now outfit that has been recreated is Taylor's purple halter dress that she wore many years ago while performing her song Dear John. It's become infamous with this album and Swift herself but has taken some very talented Swifties to recreate. Other outfits all scattered along her albums include pink glittery dresses, stars, sequins, pops of color, or maybe even all-black in tribute to her album reputation. This gives many opportunities to let fans share their craftsmanship. An already distinguishable outfit from Swift's Midnights is easy– a blue dress with silver stars scattered about. The outfit is relatively easy to recreate and is very flexible. You can place stars onto practically any blue piece of clothing, and it is synonymous with this album. Swift has an endless number of iconic outfits to recreate for the Eras Tour and no fan will run dry. Becton students have given their outfit ideas: one student recommended an extravagant ball gown that Swift wore during her music video for I Bet You Think About Me, and another recommended a pink glittery dress to represent her Lover era. Reputation, Country-Inspired, Speak Now, and Midnights Swift eras have all been listed by the 36.4% of Becton members who are attending the tour as options for their style choices for concert night.
Although the number is low for actual Becton students attending the concerts Swift has to offer near us, this is due to the fact that obtaining Taylor Swift tickets was extremely hectic and expensive when they went on sale. Ticketmaster, a large corporation for selling concert tickets, made multiple mix-ups while selling Swift tickets and the trouble it caused fans ultimately led to a recent lawsuit and court cases. While many people got their tickets, many did not. This is why 63.6% of Becton members did in fact try to purchase tickets, but around half of that number left empty-handed. Luckily, it is highly rumored that Swift will be creating a documentary of the whole concert for the fans who are not able to experience it in person. She did this same thing for her album reputation on the streaming service Netflix, where there is an over two-hour documentary of her performance in Dallas, Texas. It is a very well-made and fantastic tribute for the fans who were never able to experience it in person. As for the people who will be going, it is important that they recognize the significance of keeping your body safe and well during this show. We've got a few tips– it is recommended by many long-time concert-goers (even by Becton members) to wear comfortable shoes, stay hydrated, eat before the show, and try to dress for the weather that day. There is nothing worse than being overheated during a crowded and long concert. Remember that it will be a little over three hours long. Another fantastic tip- keep your wits about you. Not everyone at a concert is your friend, and while it is a great place for mingling and meeting new people, it is vital to stay vigilant and alert all throughout. 
Everyone has songs that they hope to hear for their own shows, or hope to hear Swift play at some point. Junior Victoria Hernandez Garcia, an avid fan, hopes to hear an array of songs, ranging from Haunted off Swift's album Speak Now to Better Man from Red (Taylor's Version). She concludes with the reasoning, "Most of the songs I selected have a special place in my heart. The ones from the beginning of her career are the ones I would love to hear, because they are the ones that many of us grew up listening to and they're how we discovered her." Sophomore Lhaze Kunsang listed Paper Rings from Lover as a song she'd like to hear, and Freshman Samantha Restrepo said she would like to hear Call It What You Want off Reputation and The Great War off Midnights. Becton and general response have been overwhelmingly positive as well. Hernandez Garcia raves, "I think that Taylor Swift is absolutely insane for giving us a 3 hour concert. No one is doing a tour like her, taking songs that should not work and making them work seamlessly. Her outfits literally leave the whole place shimmering." Overall consensus, however, wishes for more songs from both Speak Now and Taylor Swift, her debut album. Sophomore Rose Padovano shares, "I love the choices for her setlist, her outfits are gorgeous as always. I wish there were songs from her debut though!" and senior Aimee Bulger says, "Everything looks so visually cool, and I think the setlist is great, I wish there was a little more Speak Now, though."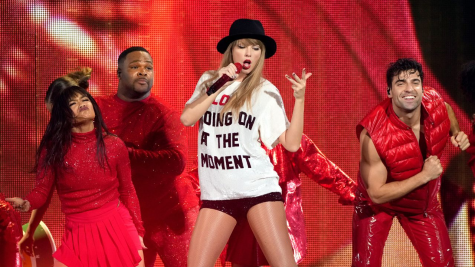 The Guardian gives this tour a 5/5, Consequence Sound describes it as "unlike anything ever staged before," and Variety fittingly calls it a "three-hour, 44-song epic that leaves them wanting more." It is incredibly hard to find a bad cover of this tour, which says a lot considering how women are usually critiqued in this industry. It seems that Swift's shimmering dresses and eye-catching bodysuits have won the hearts of everybody experiencing it in person or watching through their phones. Suffice to say– if you are a lucky attendee of "The Eras Tour," there will be no room for disappointment.
About the Contributor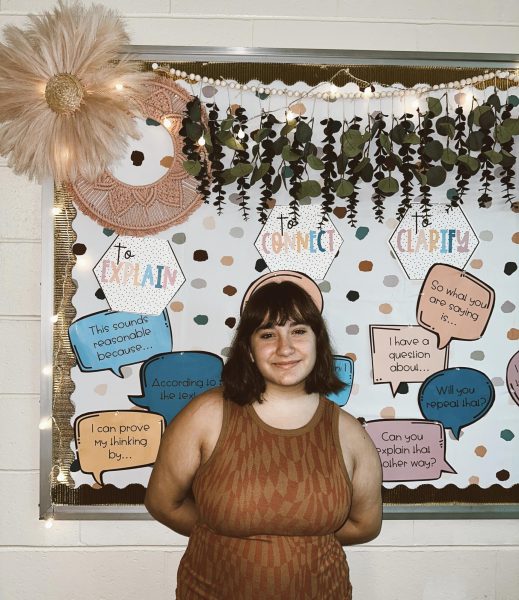 Julia Bubendorf, Co-Editor in Chief
Julia Bubendorf is a junior at Becton Regional High School and this is her second year in the Cat's Eye View. Bubendorf is also part of the GSA (gay-straight...