The Garden State Ballet School Performs The Nutcracker in the J.W. PAC for an Exclusive Performance
On Dec. 10, 2022, the Garden State Ballet School held an exclusive performance in Becton's own J.W. Performing Arts Center. The Director of the Garden State Ballet School, Jody Jaron, has been the Director for over 30 years. She credits her mother for her love of dance growing up. Her mother was a professional ballet dancer, who would perform on Broadway. After graduating from high school, Jaron came to New York where she would also perform on Broadway, following in her mother's footsteps. She wanted to have a fallback plan, so she dedicated her time to college, and was able to get a degree in Finance and Accounting during the day. However, this did not stop her from dancing at night. Ultimately, she followed her passion for dance and continues to help young students find their own. Nonetheless, the dancers undergo a rigorous program in order to dance at the Garden State Ballet School. Advanced dancers must be skilled on pointe, know the French terminology, be highly conditioned, and dedicated, and demonstrate strong leadership qualities to the younger dancers. The advanced dancers begin to train and prepare for performing in August, for about 20-30 hours a week. The younger dancers, on the other hand, are only required to know around half of that. 
The Nutcracker is a very important piece in the art of ballet. Jaron validates this by saying, "The Nutcracker is a classic, every ballet company brings this seasonal story to life. The music is timeless, and the story is full of holiday fantasy. There is something in it for everyone. Almost every ballet company does a version of it during the Holiday season." In order to assemble such a prominent dance, there are a ton of behind-the-scenes actions to be taken. There are many people present to get the dancers in and out of their costumes on time. Dancers can be found backstage stretching, taping their feet, fixing their headpieces, and going over choreography at all times. Director Jaron promotes giving back to the community, as their first Opening Day performance was free for those who reside in Carlstadt, Maywood, and East Rutherford. Jaron states, "Our performance on the 10th was our opening day and it went great. This was the first year since the pandemic that we were able to include our youngest ballerinas, 7 and 8 years old, who were so excited and scared, so it was really fun watching them dance for the first time." 
Instructor and Guest Artist Maria Zago exemplifies her passion for dance, "I have been performing in The Nutcracker for 12 years! I have a lot of things I like about being in the Nutcracker. One of my favorites is all the costumes. I've worn so many different ones throughout the years, I'm way excited to see what dances I'm in this year and what I'll get to wear! Costumes make the dances so magical!" All of the dancers expressed similar views. Lead Dancer, Natalia Sum expresses, "My favorite part is seeing the joy and excitement and showing that anyone can do it if they try." Advanced Level Dancer, Vella Vergieva, explains, "I've been doing The Nutcracker since 2017. I like The Nutcracker because I get to have fun with all my friends, I've known for practically my whole ballet life." First-year Advanced Level Dancer, Daphne, verified this statement, "This is my fourth year in The Nutcracker. The thing I love about ballet is the different dances." Many of the dances are able to resonate with the story of The Nutcracker and show team-building techniques.
The brave Alexandrea Garcia, a dancer, shares her story, "I started ballet in January 2020, a year after my diagnosis with multiple sclerosis. My first appearance in the Nutcracker was in December of 2021. I was part of the Party Scene, Curtsey, and Polka dance. This year I was thrilled to have a costume change and dance as a mouse in Battle during Act 1 of The Nutcracker," Garcia continues, "My absolute favorite thing about dancing in the Nutcracker is dancing on stage with the other ballerinas. The atmosphere is completely magical and surreal, and it feels awesome that we completed it together. The lights are shining on you, the audience is in awe, and a great feeling of accomplishment sets in." Garcia paints a picture of what many dancers feel as they are performing on stage. 
Director Jaron conveys her passion for dance and her students, "I hope my students gain the confidence in themselves that they can perform in front of large crowds of strangers. That preparation makes everything better and sharing their passions can inspire others to follow theirs." The message hopes to encourage anybody to follow their dreams and never give up. On Dec. 17, the Garden State Ballet School will be in the Rutherford Public Library at 1:00 p.m. This performance will be dedicated to Ida Borroto, former Treasurer and active member of The Friends of the Library. They will also be returning back to Becton with an assembly program on Dec. 21.. We cannot wait to see what the Garden State Ballet School has in store! The Becton community commends the recent accomplishments done by the Garden State Ballet School.
About the Contributor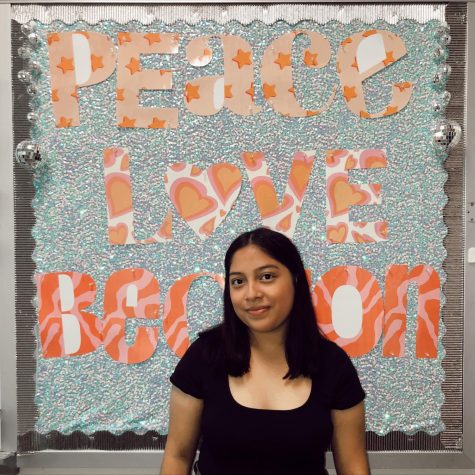 Victoria Hernandez Garcia, Co-Editor in Chief
Victoria Hernandez Garcia is coming back for her second year as part of Becton's Cat's Eye View! She is a junior at Becton Regional and originally joined...