Becton Wrestlers Rodriguez & Frizzo Make History
History was made this past weekend when Becton wrestler Michael Rodriguez won his 100th match. "I've been looking forward to closing in on my 100th win for a while now. The anticipation was thrilling and made me work even harder to get there," said the senior of the accomplishment. Rodriguez has been on varsity all four years of high school and has been a strong leader and competitor for the team. This year, he was lucky enough to be named co-captain with fellow star wrestler, Izabella Frezzo. "It's exciting that there's girls [wrestling], I'm really looking forward to a successful season."
Frezzo has been making history, along with Rodriguez, as the first female county champion in Becton history and the first county champion at Becton since 2014 for wrestling. However, this powerhouse does not just excel in wrestling, she is also an international Jiu-Jitsu champion.
Both captains are beloved by their teammates especially since they make the wrestling team feel like a family. Junior Cencir Bacote says, "Our captains push us harder with each match to come, but still makes practices fun." Sophomore Tommie Lee, who has also been excelling on the team explained that "by having our two captains so high up in the ranks, it makes the rest of us work harder to be where they are."
The wrestlers are excited to be able to host this year's district tournament. First-year wrestler, Bacote says he is "excited to have the opportunity to participate in the event". The top 3 teams will get the chance to participate in the Regional Competition and individuals that win will have the chance to proceed to State's. Sophomore George Casper says "The team is dedicated to improving every practice and [i'm] excited to see what the future holds for the wildcats". Becton's Wrestling team is well known for being a tight-knit group. They may be on the mat alone, but the coaches and wrestlers make sure that no one feels that way. Senior Tahsheem Williams exclaimed that "This team is the best, a family, not just a bunch of wrestlers; it' s what a team should be!"
You can support the Becton Wrestlers at their next match, tonight at 6 PM against Waldwick. Click here for a full schedule. 
About the Contributors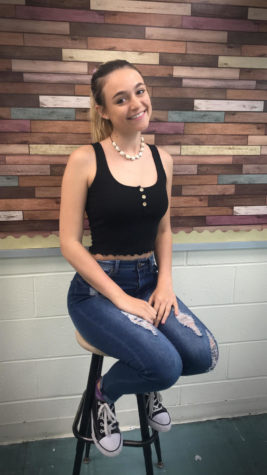 Sarah Oehlmann, Editor: Sports, Clubs & Student Activities
Sarah is a senior at Becton and this is her first year writing for the Cat's Eye View. She is adventurous and very opinionated when it comes to school...
Nicolle Okumura, Researcher/Reporter
Nicolle is a Senior at Becton. She enjoys talking to people and driving around with her friends. She likes baking and drawing in her free time. Her favorite...