Senior Deliantis recognized for top bowling performance but still aims to improve
Senior Trevor Deliantis is not only dominating his high school's bowling team average but also currently ranks second in the North Jersey Interscholastic Conference (NJIC) Meadowlands Division and third in the entire NJIC for the 2018-2019 season.
"I just try to go out there and give it my best. That's what I try to do all the time," he said.
In addition, the Becton bowler is on pace to earn First Team All-League recognition for the third consecutive year.
However, the senior athlete is always striving to do better. A few of his goals for this season are to be named First Team All-County and to increase his overall performance. "My personal goals are to also bowl my first 300 game and my first 800 series," he added.
In its latest match on January 17, Becton Bowling took a dominant 7-0 win over Secaucus, where Trevor bowled his second 279 of the season and now has a high series of 749. 
"
I just try to go out there and give it my best."
— Trevor Deliantis
The athlete credits his successful career to always striving to further develop his skills. "Even though I can bowl a good game all the time doesn't mean there aren't things I need to change or improve on," he commented.
He also takes pride in his calm demeanor and credits it as the key to his success. Always trying to keep a strong mindset and being confident during games helps him perform as well. "I want to try to stay consistent for the rest of the season, which definitely is not easy, but I know I can handle it," he said.
In fact, Becton Regional High School's bowling coach, Mr. Cantatore, credits many of the team's wins to Trevor. "He bowls very consistently and has won several games for his team due to his performances," he stated. Based on his overall performance, Coach Cantatore believes the senior will continue to receive athletic recognition. 
Trevor has been bowling with his family since he was a child. At first, he considered it to be just a fun activity, but after witnessing his natural talent, his father and uncle pushed him to take it more seriously.
"For people looking to join the bowling team, my advice is to take it seriously because it is a lot harder than it looks. Yes, it is easier for me because I have experience, but I didn't get where I am today without practicing and focusing on trying to improve my game all the time," he said.
"Also, always try to have fun because it makes it easier when you're having a good time," he added.
Although unsure about where his athletic future might lead, the Becton bowler is considering continuing the sport in college.
With five seniors leaving the team after this year, Mr. Cantatore is looking for others to join. "The Becton Bowling Team needs interested students who would like to bowl for the team next year.  The top four bowlers will get to compete at the varsity level and the next four bowlers will get to bowl at the JV level," he said.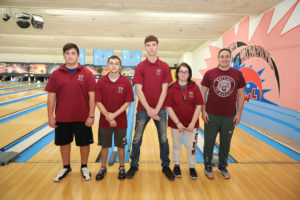 "I first started bowling as a freshman when I joined the Becton Bowling Team," said the coach. "Each year, I have improved, and through lots of practice both during the season and on my own time during the off-season, my average significantly increased.  There is always room for improvement with practice and dedication, even for bowlers with little to no bowling experience," he elaborated.
About the Contributor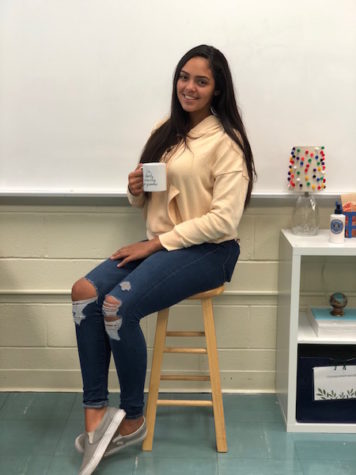 Jaylen Nuila, Staff Writer
Jaylen Nuila is a senior and will begin her second year as a staff writer for the school paper. At Becton, Jaylen is very involved and plays on the varsity...