Becton administration begins to implement One-to-One Chromebook Initiative
Henry P. Becton Regional High School sophomores and juniors have been given the tremendous opportunity to further utilize technology in the classroom due to the One-to-One Chromebook Initiative put into place by the administration and Board of Education.
As of today, well over 60 percent of the two classes have already received their school-issued Chromebook, and seeing as it is a pilot phase, student feedback is the main goal so that the mandatory roll-out for the next school year will be essentially flawless.
"So far, students are responding well to the Chromebooks. They offer students the opportunity to strengthen their technology skills. There are some who may not have a computer in their home, so the one-to-one initiative is able to provide these adolescents with a critical piece of technology that might not otherwise be available to them," stated Becton Principal Dr. Sforza.
"Students should use their Chromebook to enhance and strengthen their educational experience. The Chromebook comes with many benefits. It can be used as an organizational device, a research tool, a presentation creator or a study resource. We hope that utilizing the Chromebook in the classroom will increase students' creative and critical thinking skills by giving educators the opportunity to implement more project and inquiry-based learning strategies. Most importantly, it will make students digital citizens and in turn, better prepare them for college and jobs of the twenty-first century," he said.
The One-to-One Chromebook Initiative is a two-phase implementation project. The first phase started for the tenth and eleventh grades during the month of February. The second phase, which will also include freshmen, will begin at the inception of the next school year.
For this year, there will be flexibility in terms of students who do not wish to have a Chromebook, but by September, it will officially be part of Becton's school curriculum. Come next school year, students must use a school-issued laptop so that school officials can better monitor usage. Students will not be allowed to bring their own laptop next school year.
The use of Chromebooks will also allow students to complete PARCC testing in three days instead of three weeks as in prior years. They will also be used to take state tests, communicate with colleges, and overall, get students comfortable with a computer, the one device most of them will need in the near future.
The administration started marketing this initiative to parents and the community this past summer by sending out letters and hosting a coffee and conversation session for parents and guardians to explain the importance of technology in school. They have also offered to keep the fee extremely low.
"We are trying to make it as affordable as possible for our students by charging a nominal fee. Although, we will be glad to work with families that still may have difficulty paying the $20 fee," stated Dr. Sforza. "The small fee will assist the district in offsetting some of the costs associated with the Chromebook and its use. We did not want to charge a fee that would make it impossible for parents to afford, which is why, at the moment, we are only charging $20. We did not want the focus to be so much on the fee but more at the many advantages of using a Chromebook as part of the educational process," he added.
The annual fee covers accidental damage, theft and fire. Minor accidental damage includes liquid spills or any other unintentional event. If a student's Chromebook is stolen, a police report must be filed. The $20 will not cover dishonest, fraudulent, intentional, negligent, or criminal acts. The student, parent or guardian will be responsible for paying the full amount of the Chromebook. Furthermore, students will not be granted a new charger if it is lost, damaged or stolen. The Carlstadt-East Rutherford Regional High School District is not liable for the loss, damage or costs arising from the unauthorized use of the school issued device.
Moving on, Dr. Sforza is taking a 'no pressure' approach with the faculty. He wanted to give teachers the benefits of technology though, so he hosted a professional session in September 2016 and February 2017 by inviting Google employees to show them the benefits of G Suite, Google Docs, Slides, Sheets, Hangouts, Forms and Vault. With that said, teachers were also given the opportunity to visit school districts such as Emerson and Waldwick to see the benefits of daily Chromebook use.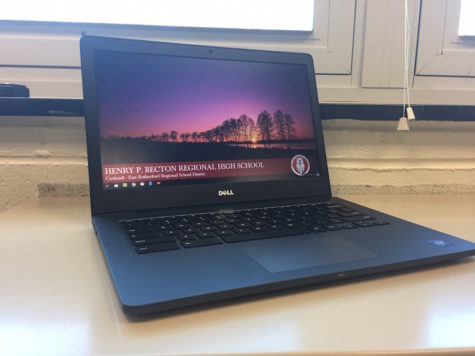 "Becton is home to teachers who are innovative and love new challenges and ideas. Most teachers have embraced the new technology, and that motivates me as a principal. We started a Google Team last school year that encompassed Becton educators. They traveled to several districts and returned with wonderful feedback," said Dr. Sforza.
As for monitoring the use of technology in the classroom, the school has partnered with a company that allows the computers to have certain filtering throughout the school day. In addition, every single teacher has access to see what activities students are performing while online. When home, an alert can be sent if students log on to inappropriate websites, so it is suggested that students keep anything that they do not want anyone to see on their personal computer.
"If you're watching 'Finding Dory' that is not going to raise a red flag. Students just need to be careful with downloading games and programs that are not allowed on the computer. If you have your own Netflix and your parents allow you to watch a cartoon after you complete all your homework, it is not going to raise any flags," the Becton principal joked.
"It takes a lot of work to start a new education initiative, especially one as complicated as giving an expensive device to every single student. It also takes a lot of support from teachers, parents and the Board of Education. We were able to convince stakeholders of the importance of having this type of technology in every student's hands and in every classroom, and in turn, have been able to allocate funds to support this innovative District and Board of Education goal," he said.
Since a variety of laptop options are available, the Becton Board of Education took functionality, size, the ability to integrate with Google products, durability, battery life, and most importantly, price into consideration. They compared and contrasted numerous different devices and researched schools and what device they have chosen. That ultimately led to the decision to purchase the Dell Chromebook 13 1730 Notebook.
Dr. Sforza went on to mention that some schools in New Jersey are nearing close to or are over a century old, and since then, students have been handed a textbook for each class. "Today, technology is allowing us to hand them a device that is half the weight of a textbook and contains more information than any one textbook can hold. We do not know how far technology is going to go in the next four to eight years. We are currently preparing students for occupations that may not even exist, so it is more important to help them build, with the assistance of technology, skills they can transfer to any future job or career," he said.
"As much as we are embracing technology and innovation in our high school, we know that no amount of technology will replace excellent teaching but only continue to enhance it," he noted.
About the Writers
Savannah Jones, Editor
Savannah is a senior and Editor for the CEV. She has enjoyed writing for nearly 3 years and brings that joy into every piece she writes. She plans to major...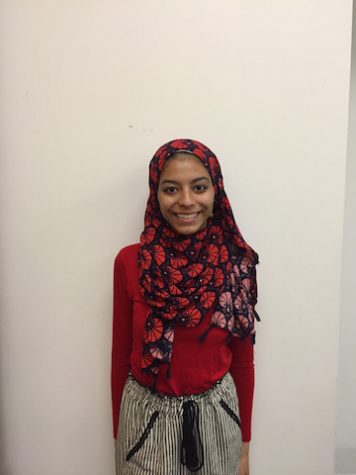 Sarah Tawfeek, Staff Writer
Sarah Tawfeek is a hardworking, creative individual. During her free time, one can find her reading, writing, and blogging about her favorite novels or...