New half-year electives continue to help students narrow down subjects of interest
Hang on for a minute...we're trying to find some more stories you might like.
Becton is kicking off the third marking period by introducing several more half-year courses that are new to the curriculum. As students wrap up their first semester course, many of them may take a creative writing class or a course in law and rights. The creative writing class is taught by English Teacher Mrs. De Santis and the law and rights course is taught by History Teacher Mr. DiBona.
In creative writing class, Mrs. De Santis' goal is for students to exercise their writing skills every day. "Students should expect to develop their writing, exercise their creativity, share work with each other and journal on a weekly basis," she said. "Students will be learning mostly about poetry, short stories and playwriting along with utilizing literary devices throughout their written work.
Moreover, Mr. DiBona's law and rights class is currently covering the American Justice System and laws and rights of each state. Senior Kayla Ranne is taking Mr. DiBona's class in hopes to learn more about the justice system and responsibilities of officers. "Criminal justice and law and rights are both very similar classes; however, law and rights goes in depth from where the criminal justice class left off."
Kayla was conflicted last year on what she wanted to do with her future, which was to be a law investigator or an English teacher, so she ended up enrolling in both English and history electives. Now that she sees a clear path of where she wants to go, which is to become an English instructor, she is still glad that she is taking Mr. DiBona's class. "It is interesting to see how important law worker's jobs are, so learning about laws and regulations in each state is really important," she said.
The senior's first semester course was contemporary literature, which was taught by English Teacher Mrs. Gatto. In her opinion, contemporary literature and creative writing are both very different subjects. "In contemporary literature, we studied post-modernism and read short-stories and novels; however, in creative writing we are enhancing our writing skills and improving our creative abilities." She noted that she is grateful that she is going to have the experience of taking both classes.
Overall, Becton is continuing to provide students with a wide range of classes to help them decide what path they will be interested in taking in the near future.
About the Writer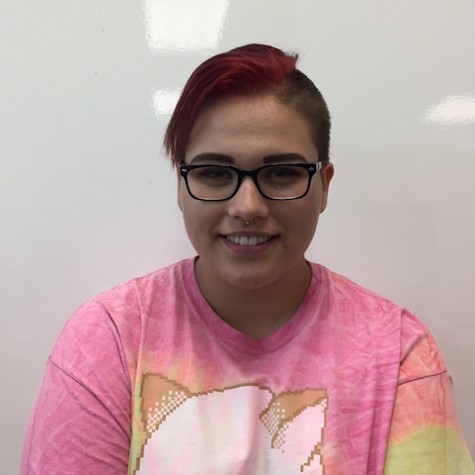 Kaya Zawistowski, Staff Writer
Kaya is a vegan ukulele player. She hangs out with her two cats and dog after school and listens to bands like Knuckle Puck, Sworn In, Issues and Of Mice...