Journalism class experiences live taping of Good Morning America
Students meet News Anchor Robin Roberts
Hang on for a minute...we're trying to find some more stories you might like.
Becton's journalism class attended a field trip to New York City to see a live taping of Good Morning America on December 19. Chaperoned by English teachers Mrs. De Santis and Mrs. Scalera, the group left for the city at six a.m. sharp to beat the morning rush hour.
Upon arrival at 6:45 a.m., the 13 students were greeted by Becton alumnus Phil McCrickard who now works for the morning program. The script coordinator brought them into the studio immediately to see part of the rehearsals for the show.
Weatherman Ginger Zee was debriefing on a possible Christmas storm while ABC anchors Robin Roberts and George Stephanopoulos were preparing for the newscast when the journalism class was shuffled behind a DJ booth and asked to dance behind DJ Ruckus each time the show cut to a commercial break. Shortly after, Lara Spencer and Amy Robach arrived on the set, and the show aired once the anchors were present.
The news anchors broadcasted segments on procrastinating during the holiday time, highway hazard alerts, and a new asthma study. One of the main features of the news segment included the use of the selfie stick, where Amy Robach brought a selfie stick over to the journalism class and took a few pictures and videos with the students. The GMA team also played a Shark Tank game with entrepreneur and investor Daymond John and last but certainly not least, interviewed Sin City Actor Josh Brolin.
In the meantime, during a commercial break, Phil took the class upstairs to the network room to see all the behind-the-scenes action. The smaller space was focused toward a huge screen of multiple smaller televisions that viewed every aspect of the room below.
When the show concluded at approximately 9 a.m., the students were shown Good Morning America's social square where the anchors often interact with their fans on social media in this section of the studio.
The highlight of the trip was when the class got the opportunity to meet Robin Roberts. She greeted the students and took a picture with them on the famous set. Cat's Eye View Feature Editor Renee Kochinski tweeted Robin Roberts after leaving and thanked her for a beautiful time to which the news anchor tweeted back "Come back and see us again…my pleasure."
The chaperones then brought the students to Rockefeller Center to see the renowned Christmas tree, and after watching the ice skaters and grabbing some lunch, the journalism class returned back to Becton, eager to return to the city soon.

About the Writer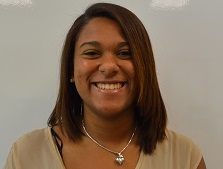 Miranda Febus, Editor
Miranda, Co-Editor in Chief of the CEV, is a believer in the philosophy "Everything is awesome. Everything is cool when you're part of a team." Miranda...