Art 1 Teachers Mrs. Lennon and Ms. Savincki Host a Color Wheel Contest!
In the month of January, Becton's Art 1 Teachers, Rachel Lennon, and Dawn Savincki held a Color Wheel Contest. Both teachers have been able to learn and grow during their time here, Lennon has been an Art 1 Teacher for 9 years, while Savincki has been an Art 1 Teacher for 23 years. The Art 1 course is an introduction to the foundations of art. Students learn about the elements and principles of art and how to incorporate them into their work. In this class, students will create projects that include drawing, shading, and painting. As time goes on, students begin to grow their confidence in themselves and their pieces. 
The Color Wheel Contest has been a fan-favorite over the past years, and that now has been included in the curriculum. All Art 1 classes are required to participate for a grade. Each table has a group of 3-4 students. Each group has the challenge to create a collage that should resemble the color that they were assigned. Savincki explains the background of the contest, "For the collaborative color wheel contest-students work together to find the closest and best choice of colors from pages in random magazines and complete a collage that best resembles that color. Each table group is assigned a color. They are able to walk around the class to make sure their color works with other colors that are being assembled as collages."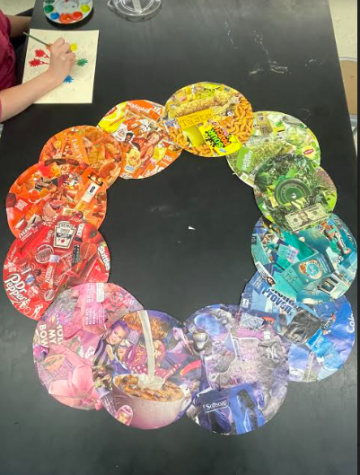 There are many techniques that students learned in the Art 1 class that was used in order for each group to complete their color wheel. Some skills that were needed from Art 1 to make the color wheel were a painted motif color wheel and learning about color groups, mandalas, and symmetry.  The winners will be chosen by both Lennon and Savincki. Lennon explains this, "Mrs. Savincki and I picked the most unique projects from all of our classes and put the winning projects together to create one big color wheel. The winners will receive a small prize and get their piece of the color wheel displayed in the hallway."
Savincki verifies the importance of art, "Overall, I hope my students become more confident in art and are more willing to take risks when producing such work. It is my hope that they find a technique, artist, or a project they really feel passionate about and can relate to." Moreover, Lennon adds this by stating, "I want students in Art 1 to learn how to be creative and think outside of the box. I want them to gain confidence in their artwork and come away from the class with at least one type of art they liked and can continue." Congratulations to all who competed and the winners! We can't wait to see what Becton's Art Department comes up with next! 
About the Contributor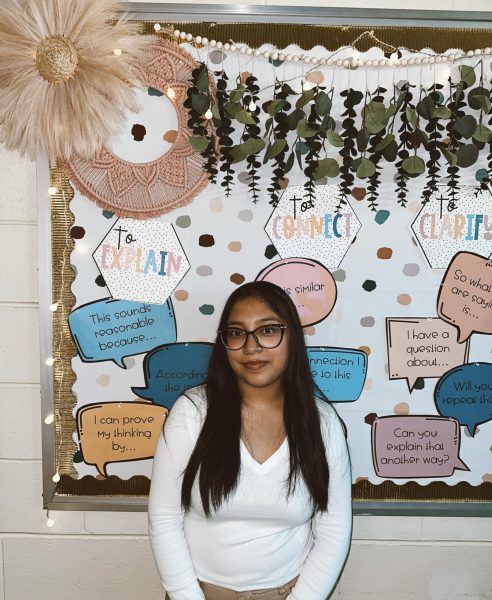 Victoria Hernandez Garcia, Co-Editor in Chief
Returning for her third and final year of the Cat's Eye View newspaper is senior Victoria Hernandez Garcia. Garcia hopes to fully master all the skills...