Becton Counselor Cozza Has Been Named the 2022 Counselor of Bergen County
Ronee Lynn Cozza of Becton Regional High School was recently awarded the title of Counselor of Bergen County of 2022 by the New Jersey School Counselor Association (NJSCA). Currently, she is the guidance counselor of the second half of the Freshman, Sophomore, and Junior classes at Becton. Her success and leadership in both her academic and personal life validate that she is more than deserving of this award and title. 
Cozza's journey with counseling has been a long one. She decided to become a school counselor due to the impact her high school counselor had on her. Because of issues that she had no control over taking place in her home life, Cozza felt that her focus had shifted from her academics to dropping out of high school and work during her freshman year. However, Cozza's counselor motivated her to bounce back and get on track. She was able to go through high school with admirable grades and apply to college.
Cozza originally went to Biola University to get her Bachelors in Psychology with a concentration in Family and Child Therapy with a minor in Biblical and Theological studies. After getting her degree, she went to Vanderbilt University for her masters in Human Development and School Counseling, where she was an honors student during all semesters and was awarded the Dean's scholarship. Clearly, Cozza has proven that the comeback is greater than the setback. Ultimately inspired, Cozza shares, "My passion refocused to paying it forward and to empathetically support students who may be struggling".
After college Cozza initially started working as a high school guidance counselor in 2010 in Nashville, Tennessee. She then moved back to New Jersey in 2012 and continued her work as a school counselor and started working in Data and Research in Higher Education as well. Having been granted the opportunity to start working at Becton in 2020, she gladly accepted it and explained that she "couldn't pass it up."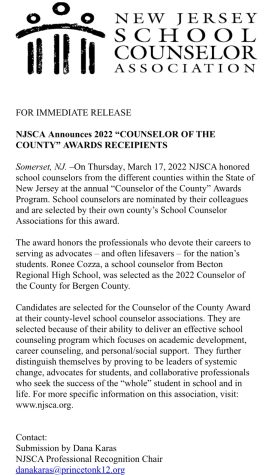 The aspects that Cozza values about her job are getting to know and understand students and their backgrounds, all while helping them to reach their full potential and accomplish their goals. She describes that she utilizes a combination of Carl Rogers' Person-Centered Approach and a Solution-Focused Brief Framework as her philosophy in her work and helping students and that seeing her students succeed such in areas of academic, social, and emotional growth "is very exciting and rewarding". Being able to witness this growth in her students motivates Cozza, which she tells, "I love meeting and getting to know people, so witnessing students as they grow through various developmental milestones is fascinating and fulfilling".
Junior Anna Pamula of Becton Regional High School explains how Cozza helped her in multiple different aspects. Not only did Cozza enable Pamula to put more effort into her academics and unlock her full potential, but she consistently guided her through her college search journey. Although Pamula had felt anxious and behind in the college-search process when she first met with Cozza, she quickly felt more reassured and comforted after she guided her through the process. Cozza successfully helped Pamula feel confident and relieved both about herself and her academic pursuits. She states, "I can attest that Ms. Cozza is truly a well-rounded, humble, and dedicated individual. She has not only helped me with school matters but overall, given me a more holistic and balanced perspective on life." Pamula truly feels that Cozza's guidance has supported her tremendously and that she will carry her advice and help with her for the remainder of her life.
Junior Walfred Santizo Simon also corroborates Cozza's success and achievements as a counselor. He explains how her guidance helped him and describes how Cozza helped him both personally and academically, but specifically in his academics. Although Simon was struggling his sophomore year, he sought out help from his guidance counselor and was able to successfully finish his 10th grade school year due to Cozza's insistent motivation and support. This experience allowed Simon to learn that there are truly good-hearted people in the world, who are willing to help him at any given moment. He explains "Ms. Cozza is a very sweet person who has always accepted me when I needed help" and that he will always be grateful for Cozza's words of motivation and guidance in the future.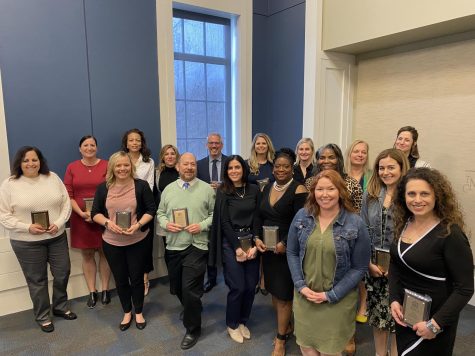 Victoria DeSantis, a key member of the Guidance Department at Becton Regional High School, who works with Cozza daily, also attests to Cozza's character. The two have been working together for two years, and she describes Cozza as a go-getter and as someone always willing to learn, volunteer, and help out others. DeSantis explains "I believe that Ms. Cozza earned this award because of her wealth of knowledge, excellent counseling skills, and expertise and experience outside of our high school." She certifies that Cozza is constantly looking for ways to improve and is currently continuing her education by leading professional development for other counselors throughout the country. 
Cozza herself feels that she was awarded this title due to a few different reasons. She primarily shared that she is grateful for the people beside her, as she feels that "so much of [her] life and accomplishments are a direct result of the people around [her]" and that her experience with those she works with and who surround her have contributed to her winning this award.
Cozza's role as the President of the Bergen County School Counselors' Association (BCSCA) has also definitely contributed to the winning of this title, as she has now been in charge of this organization that consists of current and former counselors who pay dues to award scholarships to Bergen County students who demonstrate academic excellence, a need of financial need, or a desire to pursue a career in education. She is also responsible for organizing monthly events in which donations are collected for local organizations and providing professional development opportunities for 2 years.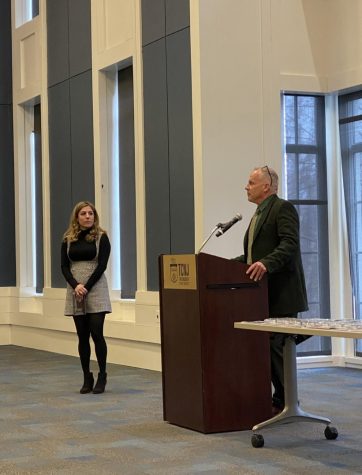 In addition to being a high school counselor, Cozza is also the Cross Country JV coach, Girls Track Assistant, co-advisor of the Chick-Fil-A Leadership Academy, and the recent co-advisor of the new Ski Club at Becton Regional High School. She truly exemplifies the school's motto of "Becton's Best… and Busy!"
On March 18, Cozza was presented with her Counselor of the County Award of Bergen County to motivate her in the future, but rather use the achievement of helping students. She states, "I like to think that I am not defined by or motivated by awards or accomplishments…ultimately I will find ways to counsel students and help those in need regardless of recognition." It is clear that Cozza finds satisfaction and delight in simply helping students and others, with or without the award.
Overall, Cozza has demonstrated that she is deserving of the title of Bergen County's Counselor of the Year! From her experiences and guidance with her students to her accomplishments and responsibilities inside and outside of school, her efforts have proven that she is certainly the right person for this award. Becton Regional High School is lucky to have Cozza as one of their guidance counselors assisting more than half of the student body, and congratulates her for this amazing award!
About the Contributor
Neziha Ulker, Staff Writer
Neziha Ulker is a sophomore at Henry P. Becton Regional High School. Intriguing enough, the word "Ulker'' translates to "Pleiades constellation"...