Becton Welcomes Adrie Hong to the English Department!
Adrie Hong is one of the newest additions to the English Department, joining the Becton family in the Fall of 2022.  For high school, Hong attended the Bergen County Academies and was a part of the Academy for the Advancement of Science and Technology. Hong later went to Boston to accomplish her undergraduate studies, as part of a dual program at Boston University.  Later on, Hong decided to pursue her graduate studies at Teachers College, Columbia University. She attended Columbia for a year before plunging into a teaching position. Originally, Hong wanted to be a Chemical Engineer all throughout High School. Teacher Hong went into the Cosmetology field. However, after a few internship experiences, Hong recognized the lab was not for her. These experiences furthered the thoughts of what made her truly happy. After careful consideration, Hong thought back to high school and the comfort obtained from English class. Teacher Hong realized that she wanted to orchestrate that same solace that she had in high school. She also wanted to share her admiration of literature with others. Hong shared with confidence, "When I really thought about what made me happy, I realized that English class was always my safe space in high school. I wanted to create that same space and also share my love for literature." This whole thought process resulted in Hong applying to the English Education programs for her undergraduate studies. 
Hong discovered Becton's homepage while doing research. While diving into Becton's website, she could tell that Becton cares a lot about its students and their goals through pictures and articles. To be specific, Hong was set on Becton when she stumbled upon Dr. Sforza's Twitter. It was filled with memorabilia of student achievements, love towards the staff, and exciting school updates. Hong conveys that "I wanted to work at Becton because I loved its community and transparency with the public." Joining the Wildcat Family in the Fall of 2022, Hong describes Becton as an "adventure." She further explains that Becton as a community is always providing her with something new. Whether it's the students, other teachers, or even teaching, she has always felt welcome and finds everyone to be super helpful. Hong explains that she feels "…at home at Becton." She teaches grades 10 and 11, and also works with some seniors in her Film and Literature elective class. Hong enjoys teaching high school students and hearing their input on life in class or through writing. Hong describes an English room in high school as, "an opportunity to make connections between the past and the present through the analysis of persisting societal issues and universal themes/questions. I have heard the voices of the past through literature, and now I want to hear the perspectives of generations yet to come." When asked about Teacher Hong, Alessandra Awad (a student of Hong's) explains that Hong "Actually communicates with us."
Outside of school, Hong has a plethora of hobbies and interests. Hong loves trying new things. Recently, she has been trying out crocheting and knitting in her spare time. However, she always returns to painting and poetry. Hong uses her painting and poetry time to destress from a long day. She also enjoys playing video games such as Animal Crossing, Stardew Valley, Valorant, and more. Hong's favorite book is Crying in H Mart: A memoir written by Korean American Michelle Zauner. Hong did not have many books centered around Asian American characters that were written by Asian American authors growing up. Reading this memoir is always an "emotional experience as I can relate to some of Zauner's experiences and as the text validates my own," as Hong depicts it. When asked about their greatest academic achievement so far, Hong responded "My greatest academic achievement so far has been completing my Master's Thesis on the effects of the Covid-19 pandemic on an English classroom. The research, the outlining, the drafting, and the constant revising of a 30+ page paper while juggling 6 other graduate courses was definitely challenging yet rewarding." Let us congratulate Hong on all of her achievements and give her a nice warm welcome to the Becton Family!
About the Contributor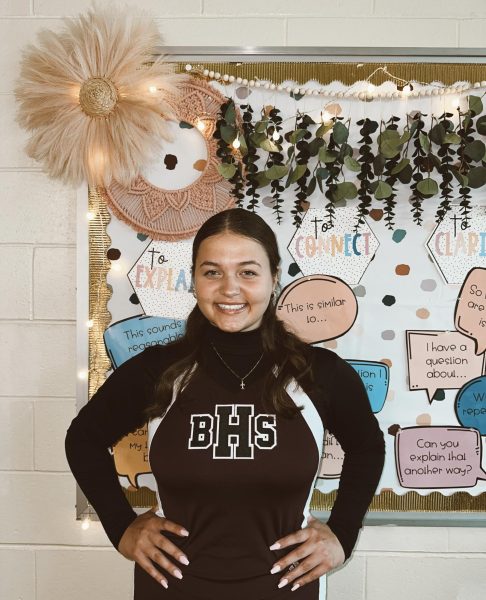 Ashlee Offreda, Staff Writer
Ashlee Offreda is delighted to embark on her second and final year being part of the Cat's Eye View newspaper staff! Offreda is officially a senior and...