September Student of the Month: Kyla Groh
Kicking off the 2022-2023 school year, Becton announced its first Student of the Month for September– Kyla Groh!
Groh is the epitome of a well-rounded student. She has been an active member of the community at Becton and is currently involved in as many ways as she can. She is an esteemed member of the National Honor Society, Spanish Honor Society, Math Honor Society, Environmental Club, Key Club, Debate Team, Images Magazine Club, Student Council, and Chick-Fil-A Leadership Academy. Groh is also part of the Track and Field team, Performing Arts Program, and has been on the Cross-Country team for the past 3 years, returning for her final year as a Senior. In addition to taking extra-circulars, Groh is now taking four AP classes her senior year. Pushing herself to be better is the value that drives her to achieve success in all aspects of her life, "Trying to become the best version of myself motivates me in reaching my academic success. I am a person that enjoys learning new things, and as a result, am always actively trying new things!"
Groh relates to most students when discussing the whirlwind of experiences that she has had throughout her time at Becton. Joining Yale Model Congress and participating in Performing Arts will always have a special place in her heart. "Yale was such a fun and new experience for me because I was going out of state with my friends, and I had the chance to meet tons of new people from different states too! Also, the Becton Performing Arts Program made me feel more comfortable and confident performing in front of a live audience." Having access to different outlets is a great chance to further your knowledge and gain a new outlook on life, as Groh has proven.
Groh additionally beams that she has been surrounded with light and love from everyone at Becton. In fact, English Teacher, Kathryn Scalera, has known Groh for 3 years now. Scalera first got to know Groh in English 10 Honors and also currently has Groh as a student in English 12 AP Literature and Composition class. Scalera remembers Groh as a sophomore being a wonderful young lady, with her maturity and confidence that has brought her to take leadership positions within the community. Groh has been able to capture a positive nature within the classroom as well as outside on the field. She is known to light up the room, whenever she walks in. Scalera justifies Groh's character, "Kyla is a wonderful student and person. I am so happy that I have been her teacher for two years. She has made me strive to be a better teacher."
When Groh is not spotted running the field or catching up with her schoolwork, she can be found helping out children get in tune with their inner artists or uploading how-to tutorials on YouTube. On YouTube, Groh helps beginners learn to play the ukulele and sings covers. Groh currently has reached an audience of 17.1k subscribers and emphasizes this message that she wants to spread throughout all her platforms, "My biggest accomplishment would have to be creating a YouTube channel where I can help thousands of people learn the ukulele through my videos. The "thank you" comments on my videos make me super happy because I am appreciative that I have the opportunity to help them." Check out Groh's YouTube here.
Being a diligent student, Groh shares her advice for those who are interested in keeping up with their academic responsibilities. She attests to staying true to who you are and not getting so fixated on the opinions of others–"Throughout high school, I have learned that you should not be so fixated on what others might think about you. You should focus on yourself and not be afraid to put yourself out there; mistakes are a part of life, and it will only make you stronger in the end."  As for the future, Groh has always envisioned herself pursuing the medical field. At the moment, she is interested in becoming an orthodontist. Ultimately, she has big aspirations to travel the world. Diving into new adventures wherever she goes. Groh has certainly made her mark, here at Becton. We cannot wait to see what the future holds for her. Congratulations Kyla Groh!
About the Contributor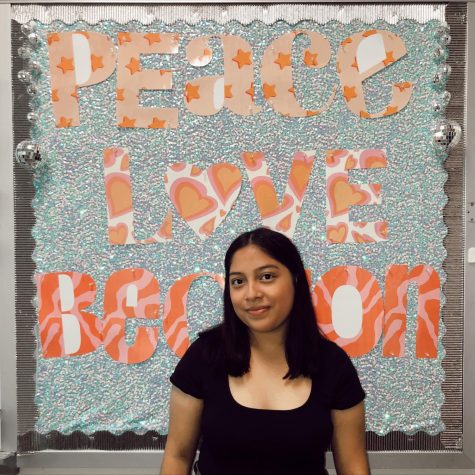 Victoria Hernandez Garcia, Co-Editor in Chief
Victoria Hernandez Garcia is coming back for her second year as part of Becton's Cat's Eye View! She is a junior at Becton Regional and originally joined...