Carnaval: Here at Becton & Around the World 
On February 20th, Carnaval started for all to enjoy around the world in notable places like Italy, New Orleans, Brazil and of course, East Rutherford, NJ. On March 6th, Becton Regional High School made its own celebration come alive.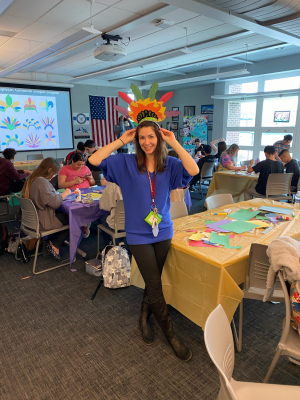 Italy: Every year people mark the day on their calendars to visit Venice for their world-famous Carnaval. They celebrate with parades, food, music and of course costumes. Italian teacher Mrs. Bonnano says "I have celebrated Carnaval in Italy all my life." When you say Carnaval, people think Italy and it's a no brainer why. Italy has been impressing people with their celebration for years and will continue to do so for many more to come.
Brazil: Brazil's celebration of Carnaval begins the Friday before and ends on Ash Wednesday. Brazil's celebration of Carnaval is more religious. In Brazil, they celebrate to let go of their bad habits, so that they can make their way into lent and be able to make it to Easter. This is very similar to how Catholics celebrate in America. While they might be more religious about their celebration, that doesn't mean they don't know how to have fun. Brazil still has an awesome parade and unique costumes for all to enjoy.
America (New Orleans): When someone says New Orleans, the first thing that comes to mind is Mardi Gras. Every year Mardi Gras, also called Fat Tuesday, takes the 'Crescent City' streets by storm, with parades, music, and dancing. Senior Sarah Oehlmann says if she was able to go anywhere to celebrate Carnaval, "it would be New Orleans". NOLA is full of amusing entertainment, and limitless fun for all ages.
Carlstadt/East Rutherford: While Becton might not be a world-famous place to celebrate Carnaval, that certainly doesn't mean that they can't put on their own festivities. This year, Carnaval was celebrated through hat making. "We are focusing on Rio de Janeiro with larger than life headpieces," says Mrs. Bonanno. The art and foreign language students worked with Mrs. Colangelo and Mrs. Savincki to create these pieces in the media center.
Our grandest event had to be the huge lunch that the ProStart culinary program concocted alongside Chef. Perdomo and Chef. Damelio. This year, 7 different foods were made with origins from the most well-known places to celebrate Carnaval. These foods included empanadas(Spain), lasagna roulades(Italy), alcapurria(Puerto Rico), cheddar bay biscuits (New Orleans, LA), flautas (Native American), arancini (Italy), and last but not least, guava and cream cheese pastries (Spanish). All the food came out excellent and made for a successful Carnaval celebration.
While every place might not celebrate Carnaval the same way, they all know how to celebrate it right.