Becton cheerleaders support undefeated varsity football team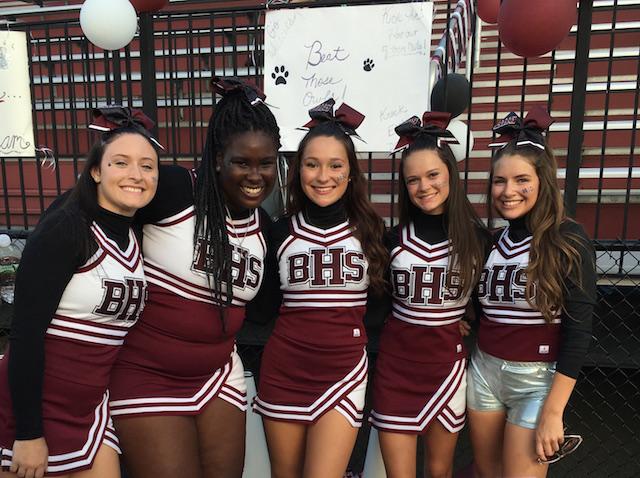 As summer steadily turns to fall and the trees slowly begin to change color, it is finally that time of year again, which signals the start of football and cheering season at Becton.
First off, a lot of work is put into preparing both the Becton cheering and football teams, with cheering practices beginning and lasting throughout the entire month of August. Being the cheering coach for fifteen years, English Teacher Mrs. Scalera describes just about how much time and practice is put into the team and its routines, stating that practices take place Monday through Thursday each week of August, adding up to at least ten hours of practice each week, plus practices during the season itself.
The routines and cheers are rehearsed nonstop until perfected, with the girls coming together and formulating ideas of what they would like to do for each routine. "Sometimes they can be executed, and sometimes they can't," Coach Scalera said, "but the finished product will always be my favorite aspect of coaching cheering. I love to see the looks of accomplishment on the girls' faces, as well as the crowd's reaction."
The senior cheer captains for the Class of 2017 are Tamia Anderson, Alyssa Berrios, Madison Jennerich, Kirsten Kennedy and Taylor Murphy. "The team really feels like a family to me. I love all of my girls, and being a captain my senior year is such an honor," said Tamia, a cheerleader of ten years. "I feel like I've always been a natural born-leader."
While cheering is a big part of football games at Becton, the main action can be found on the field itself. Coach Jack Maher is currently in his fifth year of coaching the Becton Wildcats, with this year being his second as head coach. "I really enjoy being a coach, especially here at Becton. Not only do I want the team to be successful, but I also really hope to instill some life values into the kids, like perseverance, leadership and sportsmanship," he stated.
"I'm very confident with our team this year," Coach Maher added. His confidence seems to have reigned true. Becton's first game was on Friday, September 9, where they defeated Park Ridge with a score of 24 – 9, and they also won their second game against Emerson, 34-13.
Much like cheering, there is a lot of practice and hard work that goes into preparing for the season. Coach Maher explained that practices begin in June and continue throughout the summer, with at least ten hours of practice each week.
The hard work and dedication has exceptionally paid off for a select few, with this year's senior football captains being Joseph Lesho, Luis Pontier, Jonathan Rengifo and Seven Strong. "The team is like a brotherhood," Rengifo described, "We really are a family. It's such an honor to be a captain for my final year at Becton."
With games being held nearly every Friday, Becton's next home game is Homecoming, and it will be held on September 30 at 7 p.m. when the team will face off against the Bogota Buccaneers.
About the Writer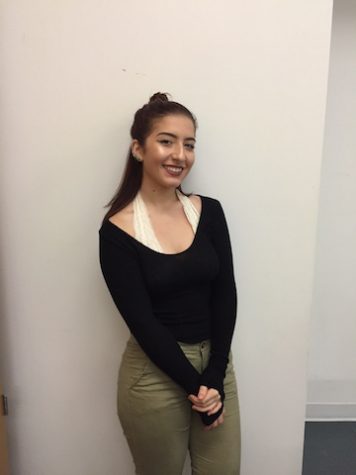 Gina Beneduci, Staff Writer





Gina Beneduci is a senior at Becton Regional High School. Starbucks barista by night, Gina is passionate about art and loves to draw as often...