Seventeen students inducted into World Language Honor Society
Student inductees enrolled in Becton's Italian and Spanish classes along with their families were formally invited to the World Language Honor Society Induction Ceremony on May 24.
To be inducted into such a prestigious society, one needs at least a 90 average in a language course and a minimum of an 85 grade point average.  In addition, one also needs to be enrolled in a language class for two years with plans to continue studying another year of the language.
Italian Honor Society inductees included Jana Christiano, Isabella Marra, Wonhui Seo, and Justin Voelker.
"My favorite part was seeing my students being rewarded for their hard work and receiving recognition for the study of their foreign language," Italian Teacher Mrs. Bonanno said.
New members of the Spanish Honor Society include Alessandra Acevedo, Sophia Cassella, Maya Dobrygowski, Kenny Fernandez, Gonzalo Guardia, Veronica Hernandez, Bhargin Kanani, Alyssa Lesho, Tomasz Mierzwa, Sofia Rodriguez, Kyle Teran, Roxanna Velasquez, and Justin Wojna.
"I truly enjoyed seeing many of our Becton students going above and beyond in their foreign language studies," said Spanish Instructor Ms. Sanchez.
The ceremony began with the class officers of the Spanish and Italian Honor Societies speaking in each of their studied languages. The officers for the Spanish Honor Society are President Natalie Paredes and Vice President Charlie Flenner and the Italian Honor Society officers are Co-Presidents Victoria Gatopoulos and Victoria Gramlich. The two vice presidents are Rebecca Colette and Alexandra Rivera. 
"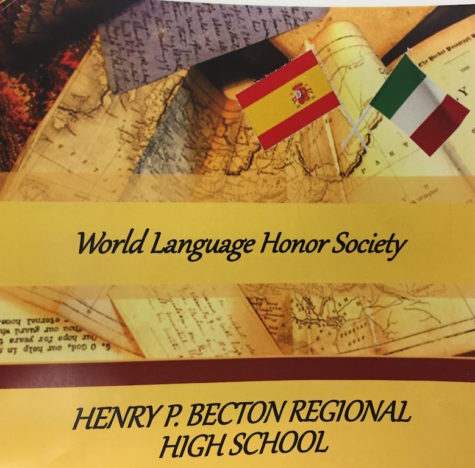 I truly enjoyed seeing many of our Becton students going above and beyond…
— Ms. Sanchez
Following, the inductees recited poems entitled L'Infinito and Excelsior in their respective languages, which was followed by an administration of the oath.
"The oaths have been the same every year; it has been a tradition we would like to keep the same throughout every ceremony," said Mrs. Bonanno.
The ceremony then concluded with each student lighting a candle and receiving a certificate and a medal. Inductees and their families were then invited to a celebratory reception, which included an array of desserts and refreshments.