September Student of the Month: Jamie Scangarella
Hang on for a minute...we're trying to find some more stories you might like.
At the top of her class, Jamie Scangarella, known by many as "Scangz", is Becton Regional High School's first Student of the Month for the 2015-16 school year.
"It feels like such an honor to be the first choice out of all the kids in my class," said Jamie.
The September Student of the Month is involved in several different activities. Jamie is an active player on the Becton Volleyball Team and has earned a spot as a National Honor Society and Italian Honor Society member.
Furthermore, she is a member of the Key Club, Environmental Club, Girls Helping Girls, Becton Concert Band, Student Council, Debate, Cat's Eye View and has taken part in the school play since her freshman year, when she fulfilled the role as a volleyball player in Promedy.
She plans to keep the tradition going with this year's musical Little Shop Of Horrors. "I'm a little nervous because I am not that much of a singer, but it is a challenge I am gladly willing to accept," said Jamie.
During her free time, Jamie likes to read, binge watch TV shows on Netflix (her most recent being 'How I Met Your Mother'), send ridiculous Snapchats to her closest friends, listen to music, and make memories with her family and friends. She also enjoys playing around with her two pet birds, and eating vegan, gluten free pizza with grilled tofu.
"Scangz" plans to enter college as a theatre major. Her dream school would be UCLA, but she would also love to attend the University of California, San Diego and NYU.
In ten years the Student of the Month sees herself being a cast member on Saturday Night Live, if not casted on a sitcom or big screen movie, or living somewhere out in California with at least three dogs.
For her senior year, Jamie is most looking forward to a fantastic volleyball season, taking part in the school's talent show, going to football games, attending prom, walking at graduation, and having one last "hoorah" with all of her fellow peers.
When asked for any last words of wisdom, Jamie replied, "You'll live a more fulfilled life once you learn the importance of obtaining happiness in every situation. If you're happy and grateful with all that you have, you will acquire an innumerable amount of success and bliss."

About the Writer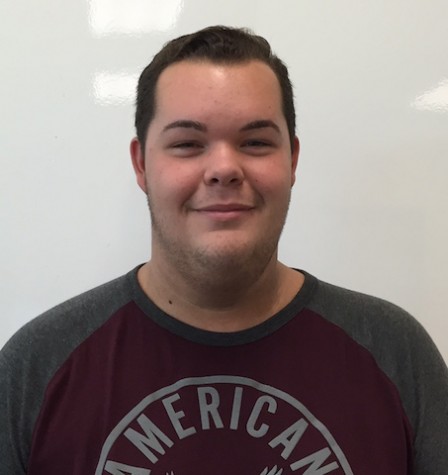 Julio Rodriguez, Staff Writer
Julio is a fantastic person. In his free time he enjoys binge watching Gossip Girl and watching old(er) movies. He is also a huge fan of most things pop...