Movie Review: Freaky
Comedic relief with a horrifying twist.
Freaky, the most recent horror-comedy hit, directed by Christopher Landon, is a must-see movie. It is not pure horror, which is evident by the number of jokes made throughout the movie, but it is pure entertainment from start to finish. Starring Vince Vaughn as Barney Calvin Garris, AKA The Butcher. This serial killer was introduced as nothing but a mere myth, however, the audience, and unsuspecting characters, soon realize The Butcher is anything but a myth. The female lead, Kathryn Newton, plays Millie Kessler, a seventeen-year-old student. We see her struggle with not only her home life but the classmates at her school. We are also introduced to the classic horror movie archetypes, with more relevant twists: her best friends, Misha Osherovich as Josh, Celeste O'Connor as Nayla, and her crush, Uriah Shelton as Booker. Millie has been through a rough few years as she lost someone very dear to her, however, this would not be the only thing she loses. At the start of the movie, she also loses her life, but don't say 'Goodbye' to actress Kathryn Newton, just yet.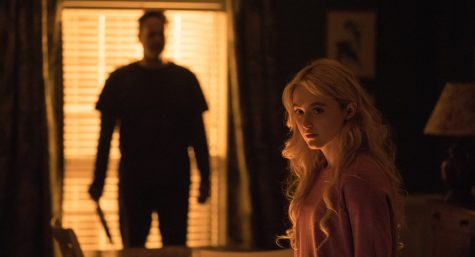 The movie first introduces us to the Butcher as he brutally kills a group of teenagers, from here he obtains a weapon which seems to highly capture his attention, in a fantastic display by the actor. We then are introduced to the trio of friends, Millie, Josh, and Nayla as they arrive at their high school. Millie is the underdog, getting picked on, however, she is not only picked on by the students but by a teacher as well. On the night of the big homecoming game(classic teen movie moment), Millie's mother is late picking her up, so Millie becomes The Butcher's next victim. The next morning is odd for both Millie and the Butcher, as they quickly realize they have switched bodies, yes, this is a wacky body-switch movie. Millie is left trying to warn her friends while looking like a 50-year-old man, and The Butcher, now in Millie's body, starts preparing to murder everyone he can.
Millie makes it to her school, but in the body of The Butcher, she scares them away. In one of the most memorable scenes, Josh addresses the stereotypical and often prejudiced, horror movie tropes about who dies first. This is one of the many one-liners that brought the theater into an outburst of pure laughter. Ultimately, Millie gains their trust, but (of course) they only have 24 hours to change back or they will be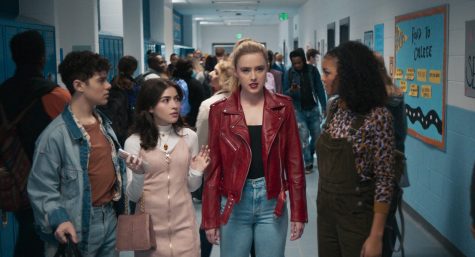 permanently stuck in each other's bodies. The rush to change back adds urgency to the film and keeps the momentum going until the end. Booker, Millie's crush, soon gets put at risk and joins in on the shenanigans. One particular scene, involving Booker and Millie (in The Butcher's body), struck a shocking response amongst the people in the theater, but we won't spoil this moment for you. Throughout the comedic scenes and gruesome ones, this is a horror movie, after all, one small plot twist leaves you on the edge of your seat.
Freaky is certainly not a family film, but it is a great laugh at the theatre or streaming at home. It is not pure horror and neither is it pure comedy, it simply is enough of both. The actors embodied their roles, with Vaugh and Newton amazingly channeling their counterparts during the body-switch scenes. 
Freaky is in theaters now, and as of December 4th, is available to stream On Demand.  Freaky is rated R, so underclassmen will need to attend the theater with a parent or guardian. Due to the horror scenes, parental advisory is greatly encouraged. Freaky is directed by Christopher Landon, produced by Jason Blum and Adam Hendricks, stars Kathryn Newton, Vince Vaughn, Uriah Shekton, Misha Osherovich, Celeste O'Connor, and Melissa Collazo.