Becton students celebrate cultural diversity at 'Carnevale'
Becton Regional High School's staff and students celebrated different cultures at the school's annual 'Carnevale' with various activities and foods this past Friday.
"Becton's World Language Department brought history and culture and the Culinary Department and Art Department transformed that into a tangible visual so that the students could taste and feel these key aspects of the carnival tradition," said Art Teacher Mrs. Colangelo.
This is the third year that Carnevale has been celebrated at Becton, and during the festivity, all students who participated wore hats similar to that of a jester that they created and ate diverse food such as Kahk (Egyptian Eid cookies), Torrijas (Spanish bread), and Alfajores (Spanish cookies).
"Spanish is not just a language; it's a culture. You learn Spanish, but during this celebration, you also learn all the enjoyable aspects of the culture in regard to food, celebrations, and more. Each country has its own way of celebrating," said Spanish teacher Ms. Ruiz.
"
Esperamos que les alla gustado el Carnavale, y que allan disfrutado las delicias y actividades que fueron destacadas este año. Los veremos para el proximo año! "
— Monserrath Martinez
Italian Instructor Mrs. Bonanno noted that her favorite part of the day is watching her students interact with each other as they learn about the different facets of various countries. "I like to involve students with learning, watching videos, making art, and tasting food. Each year everything comes together, and it's fun," she said. She continued to add, "They don't have this holiday here, so it is organized to help bring a little bit of culture to their lives that they can't experience directly."
"
Speriamo che ti sia piaciuto il Carnevale e tutto il cibo fantastico che abbiamo mangiato insieme!"
— Jaylen Nuila
The high school's faculty and staff plan on celebrating Carnevale every year and continuing its mission to educate the school community on the beautiful art and culture that other countries have to offer.
Carnevale is celebrated on the last Tuesday of February when all those who participate spend a week indulging in worldly pleasures before beginning forty days of Lent.
About the Contributors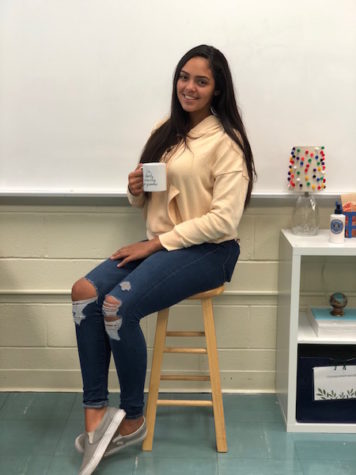 Jaylen Nuila, Staff Writer
Jaylen Nuila is a senior and will begin her second year as a staff writer for the school paper. At Becton, Jaylen is very involved and plays on the varsity...
Monserrath Martinez, Staff Writer
Monserrath Martinez is a junior at Henry P. Becton Regional High School. Monse is excited for the new school year and feels optimistic for any new opportunities...