Mrs. Gatto & GHG members help BRHS 'Light It Up Blue'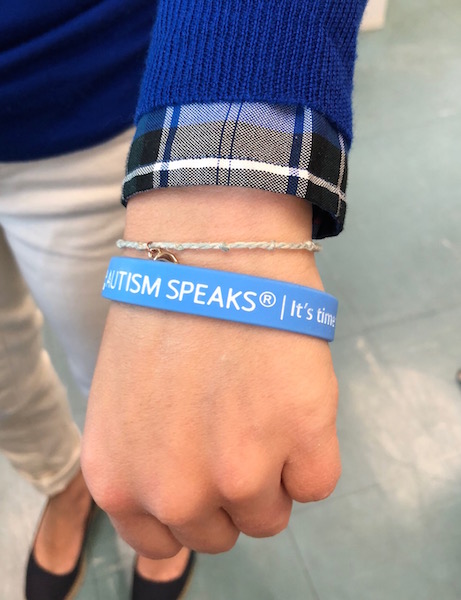 Hang on for a minute...we're trying to find some more stories you might like.
English Teacher Mrs. Gatto, with the help of the Girls Helping Girls Club, has raised $200 this month to help promote autism awareness and support further research.
All money collected will be donated to Autism Speaks whose mission is to "promote solutions…for the needs of individuals with autism and their families through advocacy and support." Furthermore, the organization helps fund research related to the causes and interventions for autism spectrum disorder.
According to the Autism Speaks website, autism spectrum disorder can include a number of developmental delays characterized by challenges with social skills, repetitive behaviors, speech and nonverbal communication as well as unique strengths and differences.
Mrs. Gatto's goal was to sell one hundred autism awareness bracelets for 2 dollars apiece during the month of April when awareness for the cause is promoted through local as well as global events. "The idea of selling bracelets does not require a lot of money, and everyone seems to like it. It was really nice to see the Becton community so eager to sell the bracelets and at the same time, purchase them to help support a great cause," said the English instructor. The goal of having the GHG members participate in the fundraiser with Mrs. Gatto was to create empathy and at the same time, help her to promote awareness throughout the high school. 
"
It was really nice to see the Becton community so eager to sell the bracelets…"
— Mrs. Gatto
April 2 is the eleventh annual Autism Awareness Day and is recognized internationally. The purpose of this day is to bring light to the hurdles that those with autism face on a daily basis, to remind people to continue educating themselves about ASD and to celebrate their unique talents. According to an article published in MMWR on April 27, 2018, 44 percent of adolescents identified as having ASD have average to above average intellectual ability.
Just this past week, the Center for Disease Control estimates a 15 percent increase nationally (2014) in the prevalence of autism by the age of 8. This information can be translated into one in 59 children having been recorded as having autism spectrum disorder versus one in 68 from the previous two years (2012). The number has risen to 1.7 percent of 8-year-olds having ASD.
Moreover, according to an April 26, 2018 article in TIME magazine entitled "This May Be Why Autism Diagnoses are on the Rise, According to the CDC," this is the highest rate ever recorded by the Autism and Developmental Disabilities Monitoring Network (ADDM).
In New Jersey, researchers have seen a 20 percent increase; however, higher estimates may be due to a better access to educational records and an improved means of identification due to a stronger educational background on the developmental disability.
Mrs. Gatto commented that she would like to continue fundraising to promote autism awareness at Becton Regional High School in the future. Next year, she hopes to increase the amount of money raised.