Becton students help make annual Senior Senior Prom a memorable event
The Becton seniors and East Rutherford senior citizens attended the annual Senior Senior Prom on Thursday, October 26 at the Homewood Suites. The current student resource officer, Mr. David Alberta, along with East Rutherford's ex-police chief, Mr. Larry Minda, and SAC Counselor Ms. Klamerus were in charge of planning the event.
Approximately 100 senior citizens and 25 Becton seniors were in attendance, and the senior citizens who participated in the annual event are East Rutherford residents, most belonging to a senior citizen organization; however, any senior citizen was welcome to join.
"This night is sponsored by the East Rutherford Municipal Alliance, which gains the money through drug court as well as drug and search seizures," noted Ms. Klamerus.
The Becton chaperones were made up of select peer leaders and a portion of the National Honor Society. Students helped serve drinks and food as well as aid the senior citizens with anything they needed. The seniors and senior citizens then had coffee and dessert, which was followed by a night of dancing by both the younger and older generations.
"The night was so great, and it was amazing to have so many generations in one room. I wish it could have lasted longer," said Senior Austin Kim.
At the conclusion of the event, two of the senior citizens were crowned prom king and queen and the festivities ended at 9:00 p.m.
Senior Nina Garcia said, "My experience was very pleasant. I had a lot of fun dancing with everyone and the food was great."
The Senior Senior Prom has been held at the Homewood Suites that has donated their banquet space for the past four years. The catering is provided by LJ's Catering, and the music is provided every year free of charge by Jersey Shore DJ Services.
Senior Kaya Zawistowski stated, "This was an amazing opportunity, and it feels so great to give back to my community and be around such amazing people."
The memorable night began 26 years ago by SAC Counselor Ms. Sawchek and Mr. Larry Minda. At the time, Mr. Minda was the D.A.R.E. officer and a student resource officer. Officer Minda explained that he saw a grant available, so his D.A.R.E. class wrote a letter explaining how they would use this grant money, which was to find a way to have the older people of the community meet and understand the younger generation.
About the Contributor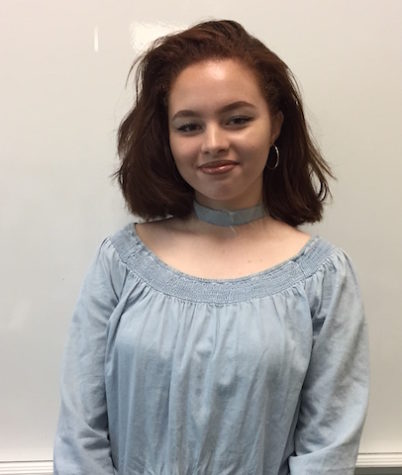 Sarah Bourouf, Staff Writer
Sarah Bourouf is an ambitious student who participates in many school and community extracurricular activities. She enjoys keeping herself busy with work...