Becton Junior-Senior Prom is a night to remember
Physical Education Teacher Ms. O'Driscoll and the junior class hosted a successful Junior-Senior Prom at Il Tulipano in Cedar Grove on May 28. The theme was 'Las Vegas' and the renowned party included flowing dresses, colorful boutonnières, blackjack tables, slot machines and an infamous photo booth.
The fun began at 6 o'clock, the arriving hour, where chaperones and students feasted on a motley of hors dourves. Moreover, there were so many decorations upon entering the party room that the students and chaperones got to feel the effect that they were at a casino in Vegas.
Students danced all throughout the evening to the DJ's spectacular set list of party hits and classics, and at the end of the night, juniors Cordell Greer and Nicol Isky were voted the prince and princess of the evening.
Furthermore, Senior David Riano was crowned Prom King while Senior Sharon Skeahan earned the title of Prom Queen.
"I was completely caught off guard when they called my name, but once I realized what was going on I got really happy," Sharon said.
Cordell stated, "I was so honored, and it was completely unexpected."
Overall, everyone really enjoyed themselves, and the 2015 prom will be one to never forget.
About the Writer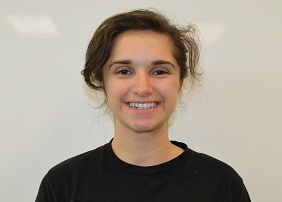 Jamie Scangarella, Staff Writer
Jamie Scangarella is the junior class president, a varsity volleyball player and a varsity debater. She is also a part of the Key Club, Environmental Club,...