The Meaning Behind the Colors–The Gay Straight Alliance! 
The Gay Straight Alliance Club is a fairly new, but incredibly important club here at Becton Regional. This year, the club has brand new and amazing advisors, Sharon Skeahan and Becca Sass! The GSA club has many different meanings to anyone who participates in the club, but when asked what the purpose of GSA, from an advisor perspective, Ms. Skeahan answered "The club's purpose is to have a student-led community within the school that provides a welcoming and empowering environment for LGBTQ+ youth and allies." As Skeahan states, it is vital, not just for the student body, but especially for the LGBTQ+ members of Becton to feel seen and welcome. Too often members of the community feel unheard, forced back into the shell they have fought through, or are still trying to break out of. By Becton having a club such as GSA, it comforts our students that they are not alone. They are just as much a Wildcat as anybody else.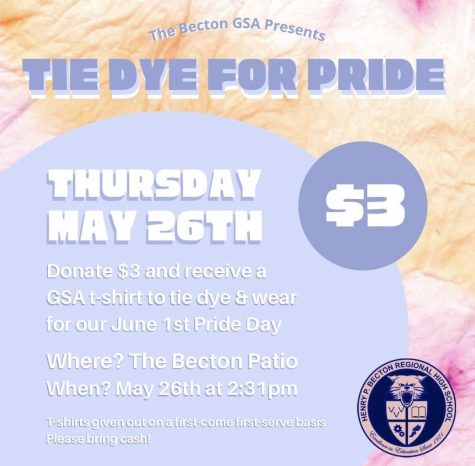 The GSA club wastes no time, they have already had a pronoun pin sale in April, recently a rainbow bake sale on May 5th and, coming up on May 26th, a tie-dye activity! Starting so late in the year may be nerve-wracking; however, advisors like Skeahan and Sass, make it look like a stroll down Wildcat Way! These fundraisers bring awareness to our staff and student body of the LGBTQ+ members and allies. When asked why she, Skeahan, said yes to the position, she explained "I believe the GSA is an incredibly valuable club to have at Becton Regional and when Ms. Sass asked me about being a co-advisor I knew immediately that it was something I wanted to be a part of. Not only could I help create a welcoming environment for students, but I also think it is a great opportunity for me to learn just as much from the students as they learn from me!" It is astounding and heartwarming to have such passionate and loving advisors, the members of the club could not be more thrilled to have them!
The real event to look forward to, as anyone in the LGBTQ+ and allies community knows, is June! Pride month is definitely an event the GSA club will go big and bright for! Pride month originated after what is known as the Stonewall Riots. This was a huge and momentous event in the LGBTQ+ community– speaking up for basic human rights that were considered ignored. It is thanks to leaders like Marsha P. Johnson and Sylvia Rivera that clubs like GSA are allowed in schools. Keep an eye out this June for some rainbow in our own school! (https://www.nps.gov/articles/000/marsha-p-johnson-sylvia-rivera.htm)
Being in high school is unfamiliar as it is, but add in questioning your sexual identity? It definitely does not make it much more comfortable. A student in the GSA club states how the club makes him feel, " I love having a GSA club at Becton! It makes me feel safe and much more contented". Just adding a outlet of peacefulness and opportunities of friendship to an LGBTQ+ member is so important and can make a world of change. No matter how opinions differ, everyone deserves to feel like they fit in somewhere.
The GSA club will only grow, at rainbow lengths, from here. The presence of the club enables the current and future LGBTQ+ students to feel supported by their Becton community. Dream-team, Skeahan and Sass, will surely show their dedication to the program and will create even more awareness of pride to Becton. Love is Love, A Wildcat is a Wildcat!
About the Contributor
Madison Knueppel, Staff Writer
Madison Knueppel is a senior at Becton Regional High School and hopes to be attending either William Paterson University or Montclair State University...