Homecoming Masquerade Ball 2022
On October 8, the Homecoming Dance finally returned! Due to the pandemic, the dance had been on pause since 2020. But this year, the Homecoming theme was Masquerade and many students participated as they strutted in on the red carpet wearing their elaborate masks. Ms. Polmann recalled, "Students were dressed to the 10s!" All in all, the dance had a great turnout– as students were buying tickets at the door! 
When asked what one memorable moment of the dance was, Lia Brown– the 2022 Homecoming Queen stated, "The whole thing! It was something we have not done since our freshman year and now we are seniors, so it was really nice to end my high school experience with that celebration." Another meaningful moment for all students was when the Homecoming Court was announced and rocked their royalty for a special embrace in the middle of the dance floor. 
Polmann and O' Driscoll, determined to make this a night to remember, showed up at 9:00 am the day of the dance to set up the gym. The decorations consisted of red, black, and gold balloons, a homecoming letter arch, as well as several welcome banners, and photo backdrops. The center-of-attention was a by-hand embellished, life-size mask that was hung on the entryway in-between sequin drapes. This was made by Becton math teacher, Kyle Mendhelson, and decorated by students Kyla Groh and Adriana Mc Clain– truly demonstrating a team effort. Then of course the infamous red carpet led the way into the gym for students to enter the Masquerade Ball in style!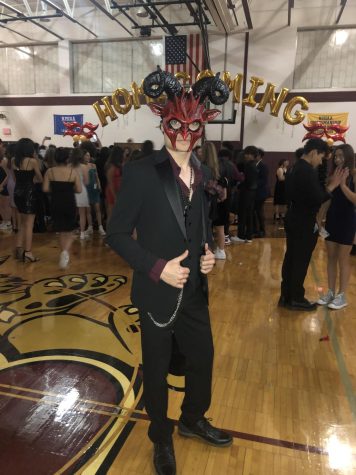 Furthermore, the food was also an immense hit. Freshman, Tristan Ramirez, expressed "The food was 10/10!" Coordinators O'Driscoll and Polmann ordered food in advance from a variety of places such as Amelia's Romagna Pizza and The Empanada shop both in Woodridge, and Carlstadt's own bakery, Veriellas. Polmann was incredibly grateful stating, "Ms. O'Driscoll and I cannot thank everyone enough for donating their time, effort, and even food to this event for the students. It is these community collaborations that make events like this so remarkable and unforgettable for students." O'Driscoll and Polmann would like to specifically thank the following:
Phil Caputo & Maintenance Crew: Thank you so much for setting up and cleaning up the gym for our dance on Saturday! Also, thank you for bringing some items back and forth to the field on Friday!  (SHOUT OUT to Antia, Joanie, & Mark- BIG THANKS)

Carlo Maucione: Thank you for the Homecoming Decor, getting us a photographer for the Homecoming game, and getting us water for the Homecoming Dance!

Kyle Mendelsohn: Thank you for creating our huge mask for us!  It turned out awesome!

Mandy Colangelo: Thank you for helping us decorate for the homecoming game!

Olivia Wilson: Thank you for creating our Homecoming Sashes! They looked great!

Eduardo Perdomo: Thank you for sharing your tablecloths and cleaning both the tablecloths and Wildcat costume!

Becca Sass & Rachel Kehoe: Thank you for finding us photographers for our Homecoming Dance!

PE Dept (Damian, Mike, Kevin, Brielle): Thank you for cleaning up the gym and taking down the volleyball net!
About the Contributor
Claudia Da Mata, Staff Writer
Claudia Da Mata is a proud member of the Cat's Eye View staff. She is passionate, caring, and kind in nature. Her main priority as of right now is making...