Becton's Nearly Famous Debate Team Hits Harvard
Becton's Nearly Famous Debate Team has had many successes throughout the years. Most recently, some of the members were able to attend this year's Harvard Model Congress trip. Only 20 delegates from the participating Debate Team opted for the opportunity to go, along with three chaperones which included Ms. Calasso, Ms. Polmann, and Debate Coach Mr. Carr. This trip took place from February 24 to 27, 2022. Becton Debate has been attending Model Congress since 1993. Their very first trip was going to the Yale Model Congress with only six delegates; therefore, much progress has been seen throughout the years. The current Debate members are always encouraging more people to join.
There is a lot of behind-the-scenes work that occurs in order to get the Debate Team in perfect shape. In preparation for the Model Harvard Congress, it is necessary for Mr. Carr to keep excellent records, get an early start, get all the approvals lined up in advance, and constantly keep up with the deadlines– which are set previously by the Conference. As for the delegates, it can vary for each individual. Typically, the delegates need to research their role, which is assigned at the beginning of the year. This also includes researching their given topic. This year the options were Cybersecurity and Preventing Diseases. Students go through a vigorous program to ensure that their briefing speeches are fierce and well-written.
Due to the exclusivity of the trip, not everyone was able to make it. Being in Harvard Model Congress is no easy task for some, the requirements are that you must be an active member of the Debate Team, maintain good grades, have a clean disciplinary record, and pay a participation price that Mr. Carr could offer financial assistance with. In addition, this year was particularly different because, by request of Harvard, you needed proof of full COVID vaccination. 
For the past two years, due to the pandemic, Model Congress had been fully virtual. Luckily, this year, students were given the opportunity to meet in person for Model Congress. The delegates were excited to go on a new adventure and experience a journey on their own. As Delegate Adriana McClain puts it, "It's not fully like being an adult, but it gives you an "adult" feeling; as you get to direct your own experience. The sense of doing something for yourself is the reason many candidates choose to join Harvard Model Congress." All the delegates were able to get the chance to move around. Delegate Robert Polanco, had this to say, "Spending time with the Debate Varsity, my friends in JV, and talking with organizers of the event were some of my favorite parts of this entire experience. I cannot wait to see what more comes out of doing Model Congress." Model Congress has been able to flourish these past few years and continues to grow each year due to more students having political ambitions and aspiring to have a career in Government and Law.
Model Congress is a robust simulation that is set up like Congress in real life. Although, there are some limitations. Congress is made up of the Senate and the U.S House of Representatives. Firstly, Delegates sign up for the committee of their choice within the House, Senate, or a special program such as the Supreme Court or the World Health Organization (WHO). Each committee within the conference has a briefing topic, most often two briefings, which will be the subject of the debate and legislation within the committee. Everyone receives briefings beforehand to gain some preliminary knowledge on the topic but it is helpful to engage in further research on your own before the actual conference. Once there, each committee engages in the general debate about the topic. Delegates state ideas that they endorsed within the topic, and then start to get an idea of the different factions forming– generally having an unmoderated caucus. Model Congresses usually operate within a strict speaking format and unmoderated caucuses are a chance to speak informally to anyone you want! Once beginning to form ideas about what type of legislation, it is preferred to write concerning the topic and spend more time writing them with the faction you have formed. Once you are done, you make an effort to get your committee to pass your bill. Lastly, if your committee passes your bill you can take it to the full session and then the other chamber of Congress.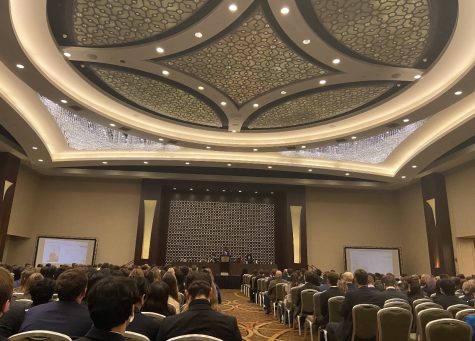 This year's Harvard Model Congress was the biggest arrangement yet. There were 1,300 students who had gone on this trip. Some of the other highlights of the trip were the opening ceremonies and former Boston Mayor Kim Janey speaking at Harvard. The students were able to ask questions to the former Mayor regarding her journey to becoming a successful leader and activist for many. A poignant moment that the Mayor spoke about was when she received a letter from actor Ellen Pompeo, who is well known for her role in Grey's Anatomy, in the letter it stated: "There's a lot of broken glass on the floor." The Mayor spoke about the significance of the quote in her life.  She explained that all her life she had to overcome injustices, and had to pave the way for not only herself but for people like her. This was a big milestone due to Kim Janey becoming the first black mayor in Boston.
In terms of accomplishments, Becton is proud to say that two of Becton's Best, were able to receive awards for their dedication and bright ideas. Freshman Robert Polanco (Class of 2025), was one of the first people to receive an award in his first year of joining Model Congress. When interviewed about how he felt when he won, he had this to say, "I was honestly shocked about it as I did not believe that I personally stood out." Polanco was on the committee of the House of Energy and Commerce and clearly proved that his craft was humbling and honorary. Another delegate who won Honorable Mention was Lucas Chen (Class of 2023). Chen was full of surprise, and shared, "Honestly I was very surprised that I received the award. I had already changed out of my suit because I was not expecting anything significant during the award ceremony. However, I am very thankful that I received it, and I would like to thank the Harvard students that were in charge of our committee: Nik, Emily, and Ida if they somehow find this article and read it, for considering me for the award. My award was the Honorable Mention award in the Senate Intelligence Committee for the conference. The winner of the best delegate award in my committee was a senior from Nebraska, so that goes to show how many different people from different places participated in this event." Congratulations to our very own– Robert and Lucas!
Model Congress has prompted many students to improve critical thinking skills, combat against other methods of thinking, and build upon their confidence. Polanco shared his experience in his first year in Model Congress, "There are many different lessons that you are able to take away from Model Congress. Personally, I have learned how to write lengthy speeches in a short amount of time, and how to pace myself when speaking." While not all the students who join Model Congress have political ambitions and want to go forth in a career in politics, they have no doubt that it has shaped their mind to see the world in a new light. Each debate allows students to voice their opinions and back up their claims with sufficient evidence of their own, which are critical life skills. All in all, the 2022 Harvard Model Congress trip was packed with visits to the famous Quincy Market, sight-seeing of Boston, the experience of networking with new minds and new friends, and overall was a win for the Nearly Famous Becton Debate Team!
About the Contributor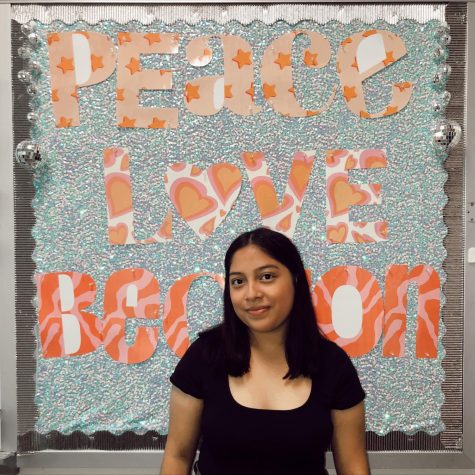 Victoria Hernandez Garcia, Co-Editor in Chief
Victoria Hernandez Garcia is coming back for her second year as part of Becton's Cat's Eye View! She is a junior at Becton Regional and originally joined...