Former Student Ms. Felten Returns to the Wildcat Family
Becton Regional High School has welcomed Ms. Brielle Felten to the Physical Education department! A former student of the Wildcat family, Felten has returned to Becton to teach.
Felten attended university at Kean University in New Jersey. Initially, she was majoring in Physical Therapy but later changed her major to Physical Education and Health during her third year of university. She always knew that becoming a teacher was in her back pocket, but found interests in pursuing other careers relating to sports. Physical activity had always been an interest of hers and she considered pursuing athletic training, physical therapy, and even broadcasting before she was set on her fate of becoming a Physical Education teacher. As Felten enjoys physical activity as well as spending time with kids, she reckoned that it would be a great experience.
The Becton alumna previously worked in two physical therapy offices in Rutherford, New Jersey. After graduating from university, she later worked at the all girls Catholic high school, Immaculate Conception in Lodi. Then, she spent the last two years teaching in North Arlington, New Jersey before she returned to Becton High School to teach Physical Education.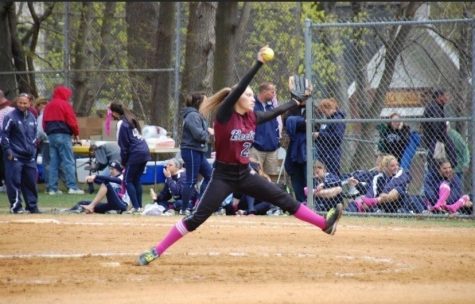 Felten believes that it is very comforting to return to her alma mater as a teacher and loves being here. She states that "Becton feels very family-oriented and is a very fun and welcoming environment." Felten also greatly enjoys being involved and is currently assistant coaching the Girls Softball team at Becton. She plans to coach even more sports as time goes on and perhaps even start a club in the future.
Physical Education teacher Mr. Settembrino and previous teacher of Felten states that, "As a student, [Felten] was always active, energetic, always prepared and is currently bringing that same energy, enthusiasm, and commitment as a teacher." He looks forward to continue working with her and is proud to see how far she has come.
In her personal time, Felten enjoys attending sporting events, such as football and baseball games. She is also a Disney fanatic and loves to visit Disney World or to simply watch Disney movies! Cooking is also an interest of hers and she loves to try out and find inspiration from any recipe that she comes across. Felten brings all of her assets to Becton's Physical Education classes to create more engaging atmosphere for the students! Welcome back, Ms. Felten!
About the Contributor
Neziha Ulker, Staff Writer
Neziha Ulker is a sophomore at Henry P. Becton Regional High School. Intriguing enough, the word "Ulker'' translates to "Pleiades constellation"...