Becton Steps Up to Fight Childhood Cancer
Every three minutes, a child is diagnosed with childhood cancer. Childhood cancer is the leading cause of death in children in America. For the past six years, Becton has been taking part in the Tomorrow's Children Fund 5K to raise money and awareness for childhood cancer through our school community. Students, teachers, and community members all came together for this great cause, doing whatever they can to help. Ms. O'Driscoll, who ¨took the reins¨ on organizing this year's race, says that ¨not only is this a great cause, but it is a great way for our students and athletes to be active and get moving!¨
The Tomorrows Children's Fund (TCF) is a non-profit organization stationed at Hackensack University Medical Center in Hackensack, New Jersey. The TCF, founded in 1987 by a group of dedicated parents, was created to provide comfort, counseling, and financial assistance to children affected by childhood cancer and other serious blood disorders. TCF also funds the medical care facilities that treat these children and the medical research needed to find a cure for childhood cancer. In addition to the services provided to current patients, the organization emphasizes helping children in remission from the disease and their family members through their ¨cure and beyond¨ services. These services include lifetime monitoring of patients' medical and mental health, financial assistance like payment of rents and mortgages, and treating any psychological impact that the patients may feel after they have reentered society. The TCF does wonders for the childhood cancer community and it is very important to support organizations like these to help others less fortunate than ourselves. To learn more about the TCF organization, visit, https://www.tcfkid.org/.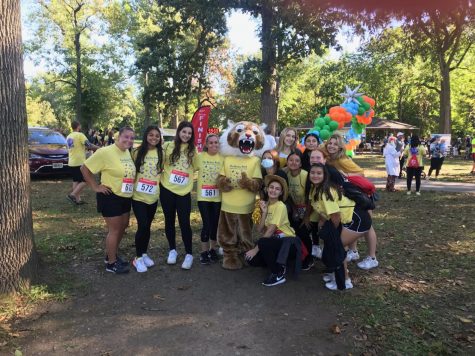 The TCF run/walk 5K was brought to Becton six years ago by Becton´s principal, Dr. Sforza, and athletic director, Mrs. Giancaspro. Since the start of Becton´s participation in the TCF 5K back in 2015, the school has been able to raise well over $5000 for the cause. Raising money and awareness for the cause is especially important and personal to Dr. Sforza, as he, unfortunately, lost a niece to the disease back in 2012.
This year's race was held on September 26, 2021, at Saddle River County Park in Saddle Brook, New Jersey. Approximately 56 people joined the ¨Becton Pack¨ team to run/walk in the 5K. Becton´s monetary goal this year was to raise $1000, and they exceeded that with flying colors! The school raised exactly $2045 for the Tomorrows Children Fund, more than double their goal. Not only did Becton successfully raise a lot of money, but the school was also very successful in the outcome of the race and won many awards. The ¨Becton Pack¨ team received the School Champion Award, awarded to the team with the most participants. The runners also had a lot of individual success this year, with two first-place awards presented to Mr. Dorsey and Mr. Settembrino for winning the race in their age groups. Three Runner-Up awards were awarded to Ms. O'Driscoll, Segall Sanchez, and Samprit Bajracharya for coming in second and third place in the race. Ms. Odriscoll was very happy with the results of the event and expressed that, ¨It was really nice to see everyone getting involved!¨
Ms. O'Driscoll, Becton´s student-event organizer, has been involved in the planning of the run at Becton since 2015,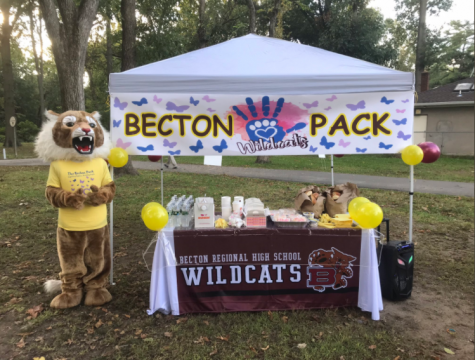 but this was her first year leading the event herself, ¨helping in any way that she can¨. Ms. O'Driscoll has gone above and beyond to ensure Becton´s involvement in the TCF 5K. This year, she set up a bulletin board outside of the JW PAC informing students about the event. She set up a donation website to collect donations for the Tomorrows Children Foundation if people could not attend the run. She then rounded up her Becton volleyball players and physical education students to heavily encourage them to join. When it came time for the race, Ms. O'Driscoll set up the ¨Becton Pack¨ tent, created t-shirts for the participants to wear, bought the runners Dunkin Donuts, and bought purple, butterfly-shaped cookies for the attendees to fuel up on. Ms. O'Driscoll says that ¨It´s tedious work at times, but it's rewarding to see Becton coming together as the family I know we are.¨
Becton has made a significant effort in raising awareness and money for the Tomorrows Children Fund and will continue to fight for a cure for childhood cancer. If you would like to support the TCF, visit the link, https://www.tomorrowfund.org/support-us, and donate.
About the Contributor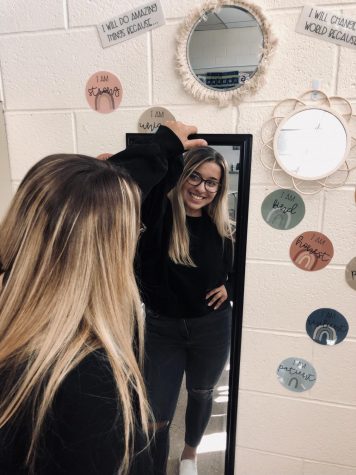 Giana DiLemme, Co-Editor in Chief
Giana DiLemme is currently a senior at Becton Regional High School. She loves being involved in her school's community as she is a part of the Key Club,...