2020-2021 Students of the Month
June: Josue Martinez
by Tenzin Yiga
As the school year comes to an end, the final student of the month recognition is awarded to Josue Martinez-Romero. As Becton's June student of the month, he is honored and grateful to be awarded this acknowledgment. "It is always nice to be recognized for the dedication you've put into schoolwork", Josue remarks.
The graduating senior is attending Rutgers New Brunswick's School of Environmental and Biological Sciences, this fall. Josue plans to major in biochemistry and plans to follow a medical field route, considering being a pharmacist or a biochemical engineer. 
Josue is involved in Becton's debate team, Math league, Robotics, Multi-cultural club, Images Magazine, Horticulture club, and PAW club. "I did debate for three consecutive years and it was always entertaining being involved in a good debate. Debate helped me improve my public speaking, writing, and critical thinking. The debate team is one of the best activities that is offered in Becton and it has helped me build my personality for college", Josue mentions. In addition to this, he is involved in Becton's many sports teams including Tennis, Cross-country, and Track and Field. Josue was also inducted into the National Honors Society and has been a part of the Spanish National Honors Society. 
Outside of school, Josue enjoys listening to music and listens to many genres. Some of his favorite artists are J Cole, Mac Miller, and Joji. In his free time, he also enjoys watching movies, reading, and running. Josue conveys that the most challenging part about school was finishing school assignments early. "Although I shouldn't and try not to, I always manage to procrastinate major projects and important school work". But explains how working under pressure helped him to improve his skills and time management.
Josue reveals that his parents are his biggest role models. He notes, "My mom and dad will always be my role models because of everything they've done in order to give me better opportunities than they had. They continuously work hard every day in everything they do and they never give up when they run into obstacles." Josue is thankful for them for making him the person he is today, and his goal is to one day return the favor and give them everything he can.  
Josue suggests that incoming students and underclassmen involve themselves in clubs, sports, or any activities that are offered. He voices that these activities will help build character, meet friends, and create the best memories. 
May: Izabella Frezzo
by Tenzin Yiga
Becton's May Student of the Month was awarded to Izabella Frezzo. "I am honored and grateful to have been chosen as May's student of the month, as it is a special award only a select few students receive each year", she answered. 
The Becton senior has committed to New Jersey City University to continue her education and athletics. Izabella is majoring in psychology and wants to work toward her goal of becoming a mental health counselor for children and teens. Izabella tells us that the most challenging aspect of high school has been finding enough time in the day to accomplish everything, without feeling overwhelmed. Her favorite activity at Becton has been wrestling and she mentions, "it has opened a plethora of doors and opportunities for me as an athlete."
Outside of school, Izabella trains and competes in Brazilian Jiu-Jitsu, as well as instructs young martial artists ages 2-13. She also trains in wrestling at a club every week. Izabella shares, "My Brazilan Jiu-Jitsu professor, Fiona Watson has always been the biggest role model I looked up to not only because of her determination on the mat but also her positive and considerate demeanor."
For her time at Becton, Izabella thanks the amazing teachers and guidance counselors, Mr. Bononno and Dr. Sforza, and those who supported her on her journey through high school. The May Student of the Month leaves us with a piece of advice, "Four years will go [by] faster than you think, so spend every moment doing great things with great people."
APRIL: Mateusz Napieralski
by Tenzin Yiga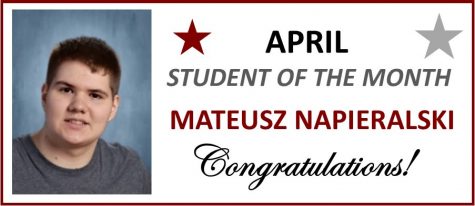 Senior Mateusz Napieralski has been named Becton's April Student of the Month. "I am honored to have
been chosen for Student of the Month. It wasn't something I was expecting but I am proud of the work I have done to get here", expressed Mateusz.
Mateusz's favorite classes have been English, engineering, and history. He mentions that Mrs. Scalera's classes taught him to look at books, literature, school, and the world overall differently, and have helped him with my writing and analysis skills. "I also really enjoyed Physics of Engineering with Mr. Di Domenico because the class allowed me to get a glimpse at the different aspects of Engineering and really helped me narrow down what I want to do", adds Mateusz. He also mentions how much he enjoyed all of his History classes, whether it be with Mr. Carr, Ms. Dizon, or Mr. Ryan because he really loved learning about and analyzing history. 
Ranking 8th in his class, Mateusz is part of Key Club, Images and Magazine Club, Multicultural Club, PAW Club, and Video Game Club. As well as being a member of the National Honors Society and vice president of the Italian World Language National Honor Society. Mateusz adds, "I think that one of the most challenging things about high school is adapting to the new schedule and environment. It can also be stressful to know that a large part of what happens in high school can be a defining factor of your future." However, he says that over time most students develop time management skills and a routine that best works for them.
Outside of school, Mateusz likes to hang out with friends, listen to music and podcasts, and play video games. One of his biggest role models is his father, who has always encouraged him to do his best and has congratulated him on his successes. Mateusz notes, "seeing how hard he has worked to get to where he has is also really inspiring."
Finally, Mateusz shares some advice for other Becton students, "challenge yourselves and take every opportunity to involve yourself, because high school is the best time to grow and make memories, and experiences that you will always remember and learn from."
MARCH: Natalie Molino
by Tenzin Yiga
Becton's March Student of the Month was revealed as Natalie Molino. "I am very honored to have received this recognition, as it has always been a goal of mine," Natalie expressed. As a high school senior, Natalie has taken interest in many activities throughout her time at Becton while maintaining her high GPA. She was the Girls Varsity Tennis team captain, the reporter for the National Honor Society, and a member of the Spanish World Language National Honor Society. Natalie participates on the Debate team, with Images Magazine, the Environmental club, the Multicultural club, P.A.W. club, Horticulture club, and Prom Committee.
In her free time, Natalie enjoys baking, reading, and learning about psychology. For her, the most challenging thing about high school was developing a routine that worked best. "Being a full-time student in high school is a great way to strengthen your time management skills," she explained. Her favorite classes throughout school have been Chemistry with Ms. Braunstein, which confirmed my passion for science. As well as Mrs. Scalera's English classes which taught her how to pick up on subtle references in movies, TV shows, and even music.
Natalie has applied and been accepted to Seton Hall, Ramapo, and Rutgers-New Brunswick. She plans on attending the Ernest Mario School of Pharmacy next fall and receiving my PharmD degree. "I've always been fascinated by science from a young age and having an occupation that allows me to help others is something that is really important to me," she remarked.
Her biggest role model has always been her oldest brother, Michael, who teaches French to middle schoolers. She is grateful for his guidance through her college application process and hopes to one day be as successful as he is. Finally, Natalie offers this piece of advice to students at Becton who are still navigating their high school years: "Always try your best but don't let failures set you back; you did the best you could and new opportunities are always going to be there waiting for you."
FEBRUARY: Blaze Grabowski
by Arfa Hoque
Blaze Grabowski is a high-achieving student. In his four years of high school, Grabowski has taken the highest levels of classes offered and did extraordinarily well in all of them. 
In addition, he is the captain of the debate team and a leading member of the Becton Performing Arts Club, where he has performed in Cinderella, High School Musical: On Stage and this year will cut-a-rug as Al in A Chorus Line. Grabowski is also a member of the Math League, Spanish Honor Society, and drum major of the marching band.
In his junior year, Grabowski was inducted into the National Honor Society and is currently the vice president. He has also participated in both Penn and Yale Model Congress, winning Best Budget Proposal and becoming a member of the Presidential Cabinet during the latter. His favorite classes throughout high school have been the history classes he has taken with Mr. Carr, also his debate coach.
Grabowski is excited about the future and plans to major in foreign service at a four-year university to work internationally. He has applied to many elite universities, including Georgetown. Outside of school, Grabowski likes to go hunting for fish with his family and play cricket with his friends. 
JANUARY: Michelle Balawender
by Tenzin Yiga
Michelle Balawender has been named the January Student of the Month. When asked about how she felt being recognized for this esteemed title, she expressed, "I am honored and proud to have been chosen for student of the month. Ever since my freshman year, I have wanted to be one, as I knew I was a hard worker and had high expectations for myself."
Currently ranked 3rd in her class, Michelle works exceptionally hard.  She participates in a multitude of extracurriculars including the Images Magazine Club, Environmental Club, Horticultural Club, Multicultural Club, Key Club, PAW Club, and tennis. During her junior year, Michelle was inducted into both the National Honors Society and the Spanish Honors Society. Presently, she is the secretary of the National Honors Society at Becton. Michelle has constantly pushed herself in the courses she has chosen and her favorite classes include English 10 Honors, English 12 AP, and Forensics. Her English classes have taught her how to analyze literature, and truly understand the messages conveyed. She notes that the Forensics class was a fun experience that allowed her to dive deeper into the world of crime. 
Michelle shares, "I believe that the most challenging thing about high school has been establishing a routine for myself. I learned over the years the value of time and the way in which you utilize it." Throughout high school, she finds herself better managing her time and completing all of her assignments in a timely manner. In her free time, Michelle enjoys reading, watching movies, playing video games, and baking/cooking. Being a senior, Michelle has applied to various colleges including Vassar, Vanderbilt, Seton Hall, NYU, Penn State, and more. She mentions that although she is not completely sure what she wants to major in, she is fascinated by neuropsychology. Drawing her inspiration from Edgar Allen Poe, Michelle says that she became very interested in the turmoil which surrounded his life. She mentions, "His poetry depicts the terrible state of his mind, causing me to become fascinated with the mind itself."
She acknowledges her mother as her biggest role model and motivator, "each day, she inspires me, even more, to apply myself in everything I pursue," Michelle reveals. Michelle admires how hard-working her mother is and how much she does for her family. Offering a final piece of advice for other students she advises, "You should make sure that early on, you establish routines for yourself in order to ensure that you perform to the best of your ability."
DECEMBER: Felicia Carty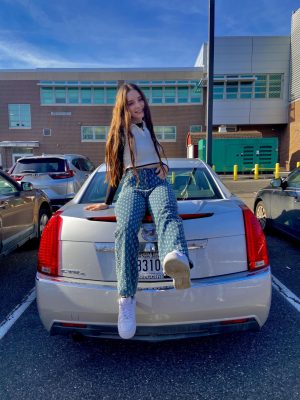 by Arfa Hoque
Outstanding student, Felicia Carty, has been named student of the month for December. She currently has a GPA over 4.0 and got a perfect score on her last NJSLA assessment.  She cited Mr. Siracusa, Mr. Jasinski, and Mrs. Scaleria as teachers that helped her achieve this honor. She explained how they want to see students learn, they work hard, and the workload is reasonable. Carty also added, "Mrs. Scalera is one of the best teachers I ever had." Carty is a member of the Environmental Club, Horticultural Club, Paw Club, National Honor Society, Spanish Honor Society, Basketball, Softball, and she has played on the varsity soccer team freshman year. She also works 5 days a week at a local steakhouse. Carty's mother runs girl scouts for the town and she helps her mother with that. Carty aspires to be a nurse in the future because she loves people and likes to help them. She shares an anecdote of how when she was young, she had a lot of medical problems, and the medical professionals inspired her to become a nurse. Carty mentioned that a nurse also has flexible hours, so she could spend time with her family. She exclaimed that over the course of her high school career, she had many challenges, but she was able to overcome them. 
Carty's biggest role model is her father. She expressed, "He has done nothing but work hard and try his hardest all his life, supporting me in everything I do. Even with sports, an athlete himself, my dad never yelled at me in relation to sports as many athlete parents do. Instead, all that ever matters to him is that I'm happy playing the sport and working hard." 
NOVEMBER: Tenzin Jorden
by Tenzin Yiga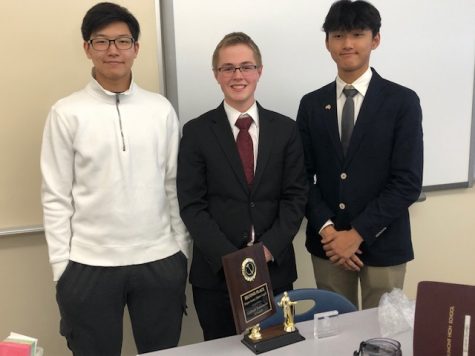 Tenzin Jorden, November Student of the Month, has constantly pushed himself and has excelled throughout all his classes, he is also an active participant in various extracurriculars here at Becton.
"I am extremely grateful that I have been chosen for this honor", said Tenzin. His hard work and perseverance allowed him to maintain a near-perfect GPA. Tenzin continues to challenge himself and in his senior year, his course load consists of AP Computer Science Principles, AP English Literature, and Composition, AP Biology, AP Statistics, Calculus Honors, as well as Spanish 4 Honors. Not to mention, his past courses included AP U.S. History 1 and 2, along with every honors class available. He acknowledges APUSH as a favorite class because of the depth of topics and historical events that he was able to learn.
For his leadership skills and quality work ethic, he was inducted into the National Honors Society during his junior year. This year, Tenzin was selected to be the National Honors Society President. He is also a member of the Spanish Honors Society. Tenzin is also the Boy's Varsity Tennis Team Captain and has been a key member of the team throughout his high school career. 
Tenzin remarks that the hardest part about high school was finding his rhythm with yearly changes in course, and difficulty around every corner. "It is extremely important that you find your interests, pace, and rhythm", says Tenzin. He finds himself in additional school activities, such as the Varsity Debate Team, Key Club, Images Magazine, Math League, Environmental Club, Horticulture Club, Multicultural Club, Music Club, and more. Outside of school, Tenzin enjoys photography and has a passion for capturing art, especially in the streets of New York. He also finds relish in music and playing tennis with his sister. 
His future is filled with big plans and he intends to apply to an array of colleges, mainly in the Northeast. He especially has an interest in attending school in either Boston or New York City. His top college, at the moment, is Columbia University with NYU, Northeastern, Rutgers, and the University of Chicago on his list. "I want to go into Political Science as a major mainly because I love politics and current events. I've had the great experience of engaging myself in activities that encompass the study of Political Science and have developed a great love for it", shares Tenzin.
Tenzin says that his parents sacrificed so much to provide him with the opportunities he has today. He explains that "their drive to succeed and inquisitive nature are pillars that have shaped me to be the person I am." 
Finally, Tenzin shares some advice to those he undoubtedly inspires, "I would advise the underclassmen and my fellow students in Becton to involve themselves at school. Whether it is taking more rigorous classes or joining a club that they were unsure about, involving yourself can help you develop your character and grow your perspective."
OCTOBER: Nadia Dobrygowski
by Tenzin Yiga
Salutatorian Nadia Dobrygowski has been selected as the October Student of the Month. "I am grateful to have been chosen for Student of the Month. I was not expecting this recognition," shared Nadia, when asked about how she felt being awarded this prestigious acknowledgment.
Nadia works extremely hard and has maintained a high GPA throughout her high school career. While being an outstanding student, she has also invested time in various clubs. She has participated in the Key Club, PAW Club, Horticulture Club, Environmental Club, as well as Multicultural Club. With her amazing academic record and involvement in Becton extracurriculars, she was inducted into the National Honors Society during her junior year. She has remained an exemplary student and role model for her peers and underclassmen.
When asked about the most challenging part of high school she replied, "It is adjusting to the fast pace and workload. Especially for those who take honors and AP classes, it can be difficult to find a school-life balance." Nadia has constantly challenged herself in the classes she has taken and pushed herself academically. Her favorite classes throughout high school have been math classes. She says this is due to her preference for subjects in the STEM curriculum, but also because her teachers have been excellent.
Outside of school, Nadia enjoys reading, exercising, and volunteering. Since Nadia is a senior, she has decided to pursue her education and apply to college. She plans to apply to a school that centers around engineering. "I'd like to specifically major in civil engineering, as the creation of infrastructure interests me," added Nadia. 
Nadia has credited her parents as her role models. She says that they inspire her every day to do well because of how hard they work. 
SEPTEMBER: Hassane Kaba
by Arfa Hoque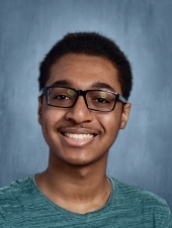 Valedictorian Hassane Kaba is Student of the Month for September. Admired by both students and staff, Hassane Kaba has managed to achieve a cumulative GPA of 102.5. He explains that his biggest struggle throughout his high school career has been to balance a schedule because it was difficult to balance study time and free time. Always up for a challenge, Hassane has taken every honors class offered at Becton. 
Hassane's favorite class at Becton was his Algebra 2 Honors course. He shares, "all answers were definite and could be applied to real-life scenarios." The exemplary student has also taken many AP courses, including AP U.S. History 1 and 2, AP U.S. Government and Politics, AP Physics, AP English Literature and Composition, AP Biology, AP Computer Science Principles, and AP Statistics.  
Hassane's favorite teacher was Mrs. Scalera, his honors English 10 teacher because she complimented everyone, encouraged everyone to do their best, treated them like friends, and never discouraged them. 
Hassane is also very involved in extracurricular activities. He is a member of the Images Magazine, Key Club, Multicultural Club, Math League, and the prestigious National Honor Society and Spanish Honors Society. 
Hassane tutors freshmen during lunch, because he plans to become a math teacher, however, he is still undecided about which university he plans to attend. Hassane mentioned that Mrs. Kochik inspired him to pursue this profession. During his free time, Hassane likes to relax, hang out with friends, and play video games, such as Minecraft, with his seven-year-old brother. 
Hassane also attributes much of his success to his role model, his mom, "She never pressures me, and tells me to take my time and go at my own pace."