Senior Nuila brings home medal from Down Under Volleyball Invitational
Senior Jaylen Nuila experienced a once in a lifetime opportunity at the Down Under Volleyball Tournament in Brisbane, Australia this past summer. After competing in 18 games, her team won third place with a 16-2 record.
Jaylen found out about the tournament through a letter from Becton's volleyball coach, Ms. O'Driscoll, as well as from a letter from the organizers of the athletic event. Ms. O' Driscoll gave the Becton senior a letter after the regular volleyball season ended and said that she had no involvement in coordinating the opportunity for Jaylen.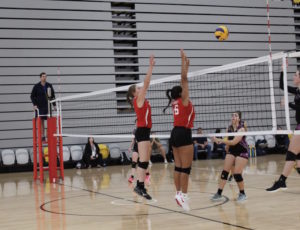 "She has grown as a player from last year to this year, and she is our leading blocker on our team. She also has improved greatly on her serves," said Ms. O'Driscoll. "She always has a positive attitude, which is an important characteristic to obtain when participating in sports."
Naturally, the opportunity required an immense amount of fundraising. "I had to raise six thousand dollars. We fundraised through Johnny's Pizzamore in Rutherford and made a lot of money there, and then people in the community donated a lot of money too." Jaylen specifically mentioned Dr. Sforza and Mrs. Failla for their generous donations. 
At the tournament, Jaylen and her team competed in roughly seven games of volleyball each day. She played alongside teammates from all over the country, with the closest one being from Chicago. She also played with participants from Texas, Missouri, and Minnesota.
The Becton athlete had a positive experience with the country too. Brisbane, located in Queensland, is one of Australia's warmer cities. "It was a nice fall day every day there," she said. She also liked the city itself. "It was really modern and very clean, and there is a lot of nature everywhere you go. It's a lot like America, only more in tune with nature."
Jaylen hopes to play volleyball in college and ideally would like to attend the University of Colorado. Moreover, she hopes this opportunity will look good on her transcript.
"When opportunities like this come, you should definitely take them. And if you want to play a sport, you should give it your all because you get what you put in," she noted.