Junior Guyre donates pet turtle to Heights resident
Science Teacher Mr. D'Alia has recently teamed up with Junior Christian Guyre to help a ten year old boy in Hasbrouck Heights by allowing him to adopt a biology class turtle.
When the young boy's pet turtle suddenly passed away, Christian suggested to gift one of Mr. D'Alia's turtles to the child. The death of the Hasbrouck Heights adolescent's pet caused him so much pain and grief that he refused to leave his house for school every day, and knowing that the Becton turtles were healthy and in good condition, Christian felt that the boy could handle one of the school's turtles and it could possibly restore his happiness. "I hope that the new pet will improve the boy's emotional state and encourage him to return to school," said the Becton junior.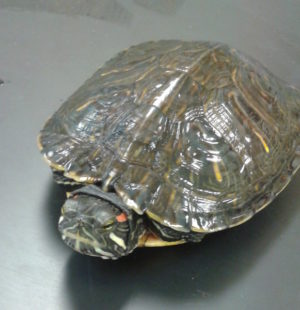 Mr. D'Alia was eager to allow Christian to give away one of the class turtles because the Becton pets were already growing faster than he had anticipated, and he could no longer keep both of them in his classroom.
The class pets were part of his biology room for the past year and were originally given to him by former Becton student Ciara Moran.
When asked what his relation is to the child who adopted the turtle, Christian replied, "His grandma does my grandma's hair."