Becton Performing Arts Department Recreates F. Scott Fitzgerald's Famous Novel, Old Sport!
On April 8, 2022, Becton recreated the show-stopping adaptation of F. Scott Fitzgerald's famous novel, The Great Gatsby. The play went through numerous possible interpretations, but ultimately, everyone decided it was best to switch it up from the usual musical and put on their version of The Great Gatsby. The story of The Great Gatsby takes place in the Jazz Age, Long Island, New York. It tells the tale of love-stricken millionaire Jay Gatsby and his pursuit to rekindle his old-time love story with Daisy Buchanan, who is now married to her husband Tom, with whom she has a daughter. The narrator, Nick Carraway, Daisy´s cousin, gets to know all about the real Gatsby when he comes to visit New York, and along the way gets consumed in the drama of the twisted lives of the two lovers, which ends in tragedy. 
The director of the play, Rebecca Cruz, and Michelle Morrell expressed their change of pace to put on the play. They only had 7 weeks and have limited resources! Cruz knew that her cast and crew were hard workers and would be able to pull off anything that may come their way. Overall, it was more of a speedy process to memorize the lines, in order to be the best prepared for Opening Day. The behind-the-scenes consisted of planning, paperwork, and costume changes. However, as tedious it may have been to plan and process, at the end of the day, the cast and crew were able to come together and pull it off!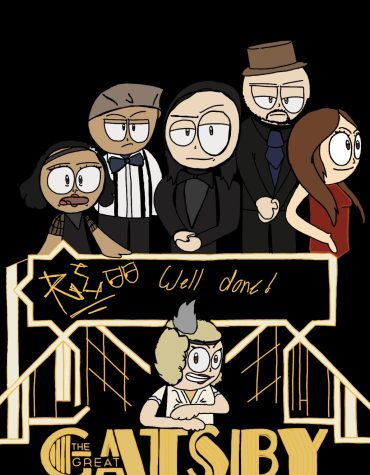 The audition process is typically the most challenging part of putting on the play for the director, Cruz. She explains, "Auditioning is always interesting because you never know who is going to walk through the auditorium doors and completely change your perception of who you thought would work for certain roles. It is always so fun to see actors work hard to learn and become a character." Different than past productions, each actor read their lines instead of singing a song from a musical. Nonetheless, all of the aspiring participants were extremely excited to audition as they all read the novel and saw the movie in their English classes. As always, everyone who auditioned was marvelous and dedicated to performing their best. 
For almost all those who auditioned, they say the most anticipating part is finding out who your part is. The final cast was filled with talented students. This group included Jorel Williams, Sophia Diaz, Sarah Burgos, Erol Yilmaz, Anastasia Georgas, Jeannille Ettinoffe, Morgan Carter, Daniel D'Errico, Kyla Groh, Tommie Lee Minaya, Peter Schumann, Ewan Lee, Aurora Marin, Monica Rodriguez, and Rocky Esposito. Tyler Koch was also a huge help in putting on the production as well as Ashlee Tancredi who was in charge of choreography. All those who joined felt the ¨Gatsby¨ pride when arriving at rehearsals each day. Actress Kyla Groh explained rehearsals from the point of view of the cast, "Rehearsals were every day except Fridays and the weekend for three hours. The cast worked very hard to perform their characters and make a memorable show. All the cast members are very kind and we get along well. Everyone is welcoming and accepting." The cast and crew dynamic flowed together, making every moment special!
Approaching showtime, everyone had their own sets of ways to handle pre-show nerves. Many actors spent their time together, relaxing in any way they could. The build-up until the show is always thrilling. Actor, Erol Yilmaz, reflected on his feelings before the curtains rose, "Opening day for me was extremely electrifying. There is nothing like walking onto a stage to perform. As a musician, I am very used to performances and I do not really get nervous, just energized! However, if you are nervous, others say that once you walk onto that stage it is all washes away. It is a proud feeling!" 
Everyone on the cast and crew had the general consensus that their favorite scene to play was Gatsby's death scene because of the audience. The entire audience was on their toes when the tension was building up. "My favorite reactions from the audience are laughing at funny remarks and the silence in the tense scenes. The room fell silent for Gatsby's death scene!" Erol added. Actress Aurora Marin also shared, "The death scene was dramatic, but I will never forget the last show when actor Ewan Lee as Gatsby could not get up due to lighting issues that were his "get up" cue! It was a hoot we did not anticipate back stage!" Clearly, no show is perfect, but these are the moments that will be remembered and make the shows at Becton true and organic!
Although it is a rather bittersweet feeling for all the Seniors, they have surpassed all expectations during their time in the Performing Arts Program. Cruz wanted to say her final words on the season, "I feel extremely proud of the group we had for this 2021-22 school year. This assortment of actors who came together for one purpose, to put on amazing performances, should be immensely proud of what they have achieved this year. It is extremely difficult to put on 3 shows in one year, but they knocked it out of the park every time!" Congratulations to all those dedicated to their performances this year and making our Becton audiences feel every emotion under the sun!
Not too fast— apparently this train does not stop here! Rumor has it, this ambitious team will be back for one last appearance before the year ends!
About the Contributor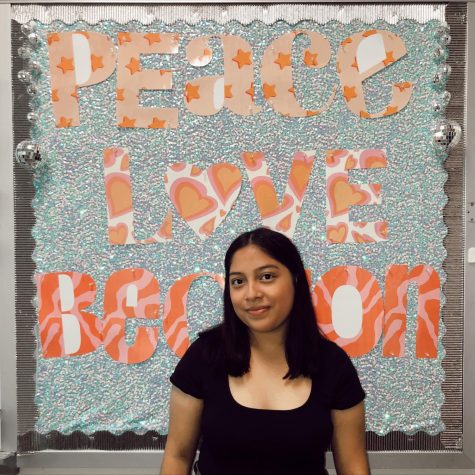 Victoria Hernandez Garcia, Co-Editor in Chief
Victoria Hernandez Garcia is coming back for her second year as part of Becton's Cat's Eye View! She is a junior at Becton Regional and originally joined...