Seniors, Minaya and Castillo, Are Named Leaders of the Pack as Mr. and Ms. Wildcat
On Friday, February 11, the winners of Mr. and Ms. Wildcat were announced at Becton's Annual Winter Pep Rally. Before going in-depth about the winners, it is essential to note the voting process. Becton seniors had the chance to nominate two fellow seniors for Mr. and Miss Wildcat. The qualities highlighting these titles revolve around who displayed the most school spirit throughout their years at Becton, and who personifies a true Becton Wildcat. 
In choosing their nominees, students kept in mind who they thought exemplified good character, stellar leadership, and the most school spirit. Further criteria to consider was based on student involvement in various clubs and sports by participation and support. With this in mind, seniors nominated Alyssa Kirk, Sebrina Castillo, and Morgan Carter for Ms. Wildcat and Tommie Lee Minaya, Erol Yilmaz, and Jayden Urrego for Mr. Wildcat. Seniors selected these during the first week of February via Google Form from the Student Council. After a few days of nominations, seniors were set to vote for their Mr. and Miss Wildcat on Monday, Feb. 7, until voting closed the day before the pep rally on that Friday. 
Towards the end of the pep rally on Friday, February 11, the winners of Mr. and Ms. Wildcat were revealed. Seniors Sebrina Castillo and Tommie Lee Minaya were crowned Becton's 2021-2022 Mr. and Ms. Wildcat. They were each given crowns and celebrated in the Wildcat way, cheered on by their peers. Premonitions circled Miss Wildcat Sebrina Castillo's head in the days preceding the event, "I realized that I had a better chance than I originally thought. I had a gut feeling that numbers were close," she noted. When she first heard of the opportunity, she immediately thought of herself in terms of the criteria for Miss Wildcat. She shared, "I believe the title of Miss Wildcat ultimately shows school spirit. At Becton, school spirit accentuates that we are one big community." From her involvement in organizing the Becton Jungle to her stellar performance playing volleyball and basketball, Castillo is a critical face that represents the community. She holds the importance of her well-deserved title to high regard as character, leadership, and community are the driving forces for this title. 
When asked about the heat in the middle of the competition, Castillo opened up about her true feelings regarding her nominees. "I had a feeling that another nominee, Alyssa Kirk, was going to win. We are good friends and teammates. I would honestly be happy if she won too." Clearly, Castillo's character revolves around supporting and rooting for others, which embodies her honor of being crowned Miss Wildcat. She shared a few words in a message to all students at Becton, saying," I encourage students to be involved as much as possible. High school flew by fairly quickly. Enjoy your high school years as much as possible, and simply have fun." Castillo shows immense gratitude towards her fellow seniors for voting for her by thanking them for this honor.
Next, Tommie Lee Minaya was crowned Becton's Mr. Wildcat. Minaya beamed in front of students and staff, displaying true happiness in the Becton gym. Minaya is known for his place on the football, wrestling, and track teams, demonstrating a commitment to representing the community. Besides his involvement in sports, he is an active member of the drama, environmental, and paw clubs. With the spare time that he rarely has after school, he spends it by helping to run the school store. Minaya was confident throughout the competition, adding that he had a feeling that he would win. He noted that he did not realize he was nominated until the official voting took place. Minaya is a social butterfly in and out of the classroom. He has built strong relationships with all of his former and current teachers and classmates, earning him the honor of being "seen before heard." He is constantly visiting classroom to classroom, and there seemingly is not a single soul in the school who has not heard of Minaya. He frequently runs errands for teachers, expressing that "I want to try to make them feel happy and put a smile on their faces." Minaya leaves his mark throughout the school, specifically by leaving his senior portrait photo in many classrooms. Look out for Minaya's picture! It is the Becton version of Where's Waldo!
Minaya notes his gratitude towards his class peers for keeping him at the forefront of their minds when it comes to being a prominent figure at Becton. He keeps his crown on his desk as a reminder of his achievements, noting that he will keep it forever. Minaya expressed, "I will even bring it to college!" When asked to give a few words of encouragement for students, he opened with his motto: "Stay humble, but hungry." He extends this by emphasizing, "…trust the process, get involved, and try your best." He confidently announced his goal of achieving the title of prom king coming up in June. Only time will tell!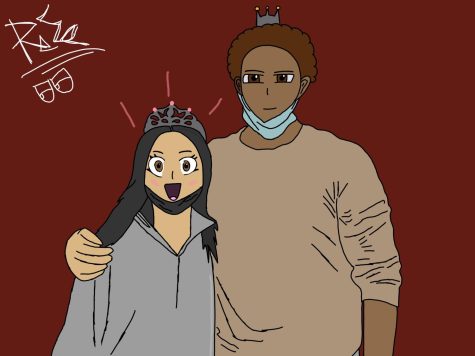 Minaya highlighted that Castillo's win is well deserved for her hard work in becoming the face of the Becton Jungle, especially noting that her spirit could outshine the entirety of the Becton Jungle on her own. Castillo exclaimed that "Tommie Lee is without-a-doubt one of the students who comes to mind when I think of the identity of Becton." Both Miss and Mr. Wildcat carry themselves with the pride and character of the whole student body. Congratulations to Castillo and Minaya for their earned titles as the faces of Becton Regional!
About the Contributor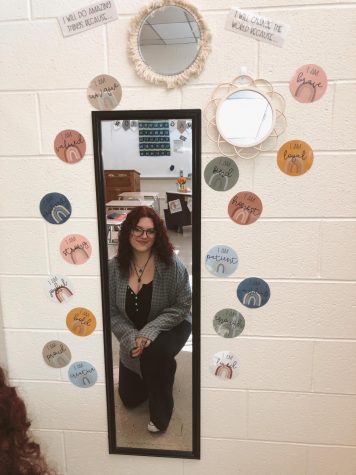 Sylvia Faltyn, Staff Writer
Sylvia Faltyn is joining The Cat's Eye View for her senior year! With the pandemic cutting off half of her Sophomore year, she was able to appreciate...