School Spirit Is Not the Only Thing 'Haunting' Becton's 'Nightmare on Wildcat Way!'
As part of Becton's annual Halloween festivities, Ms. O'Driscoll and Mrs. DePeri had the honor of hosting the 2021 Halloween Fest "Nightmare on Wildcat Way." With contributions from many faculty, staff, and students, this year was one to remember! The gym was incredibly decorated in super-size cobwebs and spiders, ones that were sure to make students' skin crawl! Along with being expertly DJed by DJ Tropical, one of Becton's former students, and co-hosted by senior Elijah Pontier. With these two running the show, the event was sure to stay in everyone's memories. Students had to opportunity to sign up for many games that took place during Halloween Fest. On the same note, a Staff and Student Costume Contest took place, organized explicitly by DePeri. Thanks to the tremendous effort put into this pep rally; students enjoyed the spooky ambiance surrounding the gym.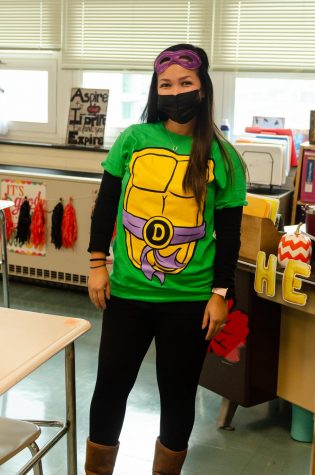 Do not be fooled; copious amounts of planning were put into this school-wide event. To specifically hone in on the costume contest, the history of this event must be considered. DePeri revealed that the annual Halloween festivities started only four years ago, in 2017. It was initiated by the graduating class of that year, and it was their goal to make it fun, thrilling and include as much student participation as possible. DePeri disclosed, "It was their idea to celebrate Halloween together, collectively, as a school. And from there, the Halloween Fest was born." Now, students can´t imagine Becton without it!
Days leading up to the contest, school-wide emails were sent by DePeri to remind students of the opportunity. Students were to sign up with DePeri by Wednesday, Oct. 27, to be considered in the voting. However, circumstances led to that expectation not going reasonably as expected. She shared, "I had a lot of last-minute sign-ups coming to me in the morning, and [they] expressed wanting to get involved." DePeri happily made adjustments as she saw the boost in morale by students as well as the stir in interest. She also saw inflation in overall interest surrounding all types of participation at the pep rally, partly due to the integration of Maywood students growing the Becton family. She recognizes the excitement coming from Maywood students when getting involved in all events at Becton, boosting overall school spirit. 
After a long school day on Friday, Oct. 29, anticipation grew within the building as everyone got to see various costumes, whether in the halls or classrooms. DePeri adds that many students like to ask her for the costume contest results ahead of time, adding to the build-up of energy throughout the school day leading up to 1:30 p.m. Students and teachers alike were motivated to win through the persuasion of getting their peers to vote for them. And so, DePeri sent out the school-wide Google Form to initiate the voting process at 10:08 a.m., ending at 11:35 a.m., which was the end of the lunch period. The categories for both staff and students are listed as Funniest Costume, Most Creative/Original Costume,  Scariest Costume, Best Duo Costume, Best Individual Costume, and Best Group Costume.
To start the outstanding roster of winners, the winner of the Funniest Costume for staff went to the Physical Education Department was the cast of Austin Powers. Mr. Settembrino was Dr. Evil, and Ms. O'Driscoll was Mini-Me. Ms. Felten dressed up as Vanessa Kensington and Mr. Daniello as Austin Powers himself. Settembrino remarks that O'Driscoll always ensures that the Phys. Ed. Department goes all-out for Halloween; the group as a whole prioritizes school spirit and gets involved in all holidays throughout the year. The teachers planned out the costume in September, and the credit for inspiration goes to O'Driscoll since Austin Powers is one of her favorite movies. As for the students that won Funniest Costume, the winners are seniors Nicole Henke and Caitlin Nozka as Stepbrothers from the movie Step Brothers. The two dressed up as Will Ferrell and Dave Dolback from the movie as the main characters. Congratulations to the winners for this category!
In continuation, the winner of Most Creative/Original Costume for staff was conquered by Chef Perdomo as Killmonger from Black Panther. His costume was marked by his incredible mask, which is known for, in the movie, for being The Dogon Mask which Erik Killmonger stole from the Museum of Great Britain. As for the student who won Most Creative/Original Costume, it was senior Kaylea Roughgarden as a bowl of cereal. She hand-made her costume out of pool noodles, marking her dedication and creativity. Since her freshman year of high school, she has also been a tough competitor in this category as she comes up with amazing costumes for every Halloween. Congratulations to Roughgarden and Perdomo as winners for this competitive category!
As for the Scariest Costume, the winner is freshman Steven Longo as the Skeleton King. His costume undoubtedly got the vote of Becton students school-wide due to his dedication. With help of his brother to choose his inspiration, Longo brought his costume to life in the Wildcat gym. He adds that he always goes all-out for Halloween every year, adding that "Halloween has always been fun in my house." He reigns over this category as the single winner, and Becton students and staff know that he deserves it. Congratulations!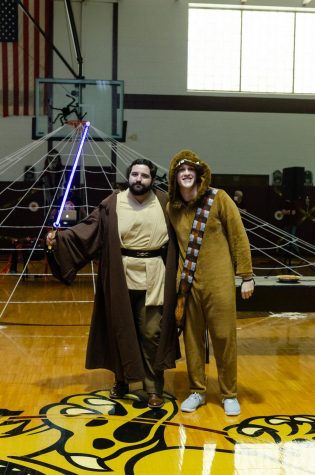 Moving into the hotspot of categories is the Best Duo Costume, which was by far one of the most competitive categories. Mr. Lind and Mr. Malyack wore the iconic costumes of Chewbacca and Obi-Wan Kenobi as the winning teachers for this category. Lind came into the contest with confidence saying, "[We] expected to win. There is nothing better than Star Wars." Originally, Lind had planned to dress as Anakin Skywalker but panicked when the costume came in too large on Wednesday, just a couple of days from the Halloween Fest. He ended up wearing his younger brother's Chewbacca onesie after ripping through his closet. Malyack was inspired to dress up as Obi-Wan Kenobi as it was his favorite character in his favorite movie. His favorite part of his costume was his lightsaber, which he bought from Galaxy's Edge in Disney World. In regards to their plans for the next costume contest, they remarked, "Just wait to see what we put together next year. We're bringing in reinforcements and going for the group title. Watch out!" 
The student winners for the Best Duo Costume were senior Tommie Lee Minaya and Junior Kyla Groh as Superman and Lois Lane. The pair had initially planned for another costume a month in advance but won by the opinion of Becton students and staff when they chose their final costume just a few days before October 29. Kyla shares, "I got my costume idea from Pinterest, but Tommie was the one who suggested the idea." She adds that her favorite part of the costume was her ID to pretend she was a reporter. Congratulations to the winners for this category!
Coming in as the student winner for Best Individual Costume is sophomore Ola Zaluska as the iconic costume of Sandy from Grease. Despite her doubts about winning, she persevered, and the polls put her through. Her inspiration came from a conversation with her mom, "I love the movie Grease. My mom and I were talking about the movie and [we both agreed that] 'I should be Sandy for Halloween this year.'" She went on a whim to sign up for the contest, explicitly saying she had never participated in the competition before and deemed it incredibly enjoyable. The staff member that won for this category was Mr. Farina, dressed as Mickey Mouse. He got the idea as sentiment for his family, "My family loves going to Disney. I thought my wife and children would get a kick out of the costume." Farina also shares that he was taken by surprise after learning of his win due to the effort put in by so many teachers. It was difficult to differentiate him from the actual character! He had a great time winning the costume contest and adds, "I am also proud to be the king of pumpkin pie eating." Good job, and congratulations, winners!
Last but not least are the winners of the Best Group Costume: seniors Francesca Matraxia, Gina Cruz, Robbie Emerson, Aaron Dekoyer, Daniel Pronti, and other friends as Animals. The large group dressed in different animal onesies. Matraxia shares that although she usually does a duo costume with her friend, Cruz, she and her friends opted for a group-friendly costume. She stated, "We all decided we wanted to be animals, and the quickest way to do it was to order onesie since [the costume] was sort of last minute." Despite that their costume was not planned out, she had full confidence that her group would win due to the mere size of it. As for the staff winners of the Best Group Costume was the English Department as the characters in The Wizard of Oz! With Mrs. Colangelo as Dorothy, Mr. Koch as the Tin Man, Mrs. Turvey as the Scarecrow, Mrs. Scalera as the Cowardly Lion, Mrs. Gatto as the Wicked Witch of the East, and Mrs. Settembrino as Glinda the Good Witch, the group certainly made us feel at home again in the Becton gym!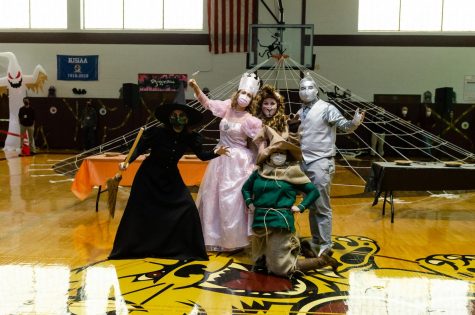 Undoubtedly, inspiration from costume ideas was dancing around staff and students' heads for next year due to the incredibly creative costumes worn by students during the Halloween Fest. In contrast to last year, all students got together for one huge celebration. Due to COVID restrictions the year before, festivities were limited to students' gym periods. This year, with the restrictions lifted, staff and students pulled out all the stops to make this Halloween Fest the best one yet! Once again, congratulations to the winners and a big thank you to those who participated! Thank you to the Student Council, O'Driscoll, and DePeri for making a huge comeback at Becton's 2021 Halloween Fest: "Nightmare on Wildcat Way."
About the Contributor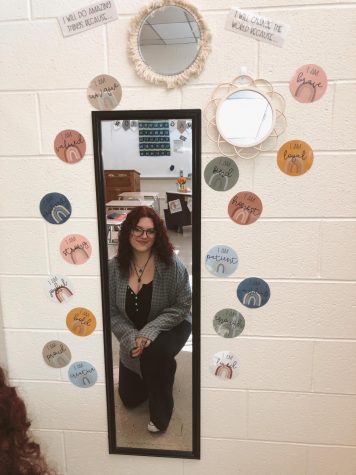 Sylvia Faltyn, Staff Writer
Sylvia Faltyn is joining The Cat's Eye View for her senior year! With the pandemic cutting off half of her Sophomore year, she was able to appreciate...