REVIEW: BTS' New Album "BE"
The following review is the viewpoint of the writer only and does not reflect the opinions of the Cat's Eye View staff, as a whole, or the administration, faculty or students of Henry P. Becton Regional High School.
Release Date: November 20th, 2020
Length: 28.30
Genre: Pop, K-Pop, EDM
The South Korean group BTS has broken many records, sold out stadiums all over the world and has one of the best selling albums of 2020. BTS is currently the biggest group in the world due to their hard work and meaningful songs. On November 20th, BTS released a new album called "BE" comprised of 8 new songs, including "Life Goes On".
The group debuted on June 13, 2013, and has 7 members:(oldest to the youngest) Jin, Suga, J-Hope, RM, Jimin, V, and Jungkook. Unlike other K-POP groups, BTS was not
popular from the start and had to work their way up. When they first started making music, they weren't popular, had no money, and struggled to get an audience. Big Hit Entertainment, the company that found BTS was very small and also had little money. They started to get popular in the U.S in 2017 with their hit song "Idol". On YouTube, they have broken numerous records such as gaining 100 million views under 24 hours. They have also attended the Grammys, BBMA's, Billboard, and more award shows, usually taking home handfuls of statues. BTS stands out from other K-Pop groups because of their willingness to discuss personal issues and tough topics, including mental health. Junior Maddie Knueppel explained what makes her a fan of BTS music, "BTS dive into the ugly emotions and beautiful ones that people may experience, such as the fear of growing up, and the rough moments in romantic connections with others or even internal problems within yourself…[then they will switch] to a complete change in tune. Now we have fun superhero songs, empowering songs, self-love, and [traditional] love songs". Furthermore, The K-Pop group has been cited by various social media users as a means of comfort during the pandemic.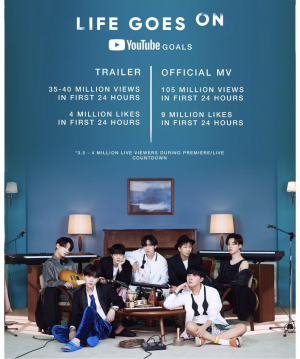 The new album "BE" was designed to "find healing and comfort" explained BTS member, J-Hope. Another message they wanted to deliver was that despite many ups and downs they realized that "Life Goes On", inspiring the title of their new song from the new album. As 'super-fun' Knueppel shared, "It's an album to help us continue on and to understand that this won't last forever".
About the Contributor
Francine Velasco, Staff: Arts & Culture


This is Francine's 1st year joining the Cat's Eye View. She is dedicated to her classes and work. Others would describe her as very outgoing, open-minded,...