May Student of the Month: Veronica Hernandez
Veronica Hernandez, who is ranked eighth in her class with a GPA of 94.7, has been named May Student of the Month.
"It feels amazing and satisfying because this recognition means that my hard work is being recognized. It is an accomplishment that I worked so hard to get because nothing means more to me than making my mother proud," she said.
The senior has participated in a numerous amount of activities and extracurriculars throughout her four years at Becton Regional High School. She went on to explain, "I have been a member of the Becton Band and a part of the Debate Team. I have volunteered at Carlstadt Public School to help their 8th-grade debate team and encouraged them to join the extracurricular activity when they come to Becton." She was also inducted into the Spanish Honor Society during her sophomore year and the National Honor Society during her junior year. Throughout Veronica's senior year, she participated in Key Club, Peer Leadership, and was elected president of the Spanish Honor Society.
The Student of the Month partakes in multiple activities outside of school as well. She has participated in pageants and also dances in parades with her mother while representing her country, which is Bolivia. "It is very different and not very known about me, but I've been dancing folkloric dances since I was a little girl."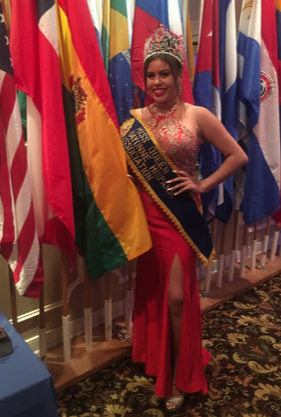 Veronica has committed to attend Bergen Community College in the fall. "Close to Commitment Day, I decided to attend Bergen Community College through the NJ STARS program. I plan on doing my prerequisites at Bergen, transferring to Drew, and then making my way to law school," she explained. After college, the May Student of the Month plans to become a lawyer. "I'm not sure what kind yet, but I have always wanted to study law ever since I was in middle school."
The senior enjoys many classes that her high school has to offer. "My favorite classes are English with the fabulous Mrs. Gatto, Holocaust with Mr. Ryan, and Culinary 4 with the new and talented Mr. Perdomo. I enjoy English because Mrs. Gatto brings every story to life. I find joy in the Holocaust course because history has always been my favorite subject, and Mr. Ryan is a fantastic teacher. He tells the raw facts of the Holocaust, and it's just such an all-around fascinating class. Culinary 4 is genuinely so much fun, and Mr. Perdomo teaches us so many different techniques and prepares us to be our own chefs."
"
My mom will forever be my role model."
— Veronica Hernandez
Someone Veronica considers a role model in her life is her mother. "My mom will forever be my role model. She's an independent, hard-working woman that had nothing handed to her and has worked for everything she has. I work hard so that I can make her proud and myself proud."
Some advice that the Student of the Month has for other students who would also want to achieve this honor is to "just keep working hard, and don't be afraid to go above and beyond."
"Stay organized, write everything down, ask for help, and try not to procrastinate too much," she added.
About the Contributor
Misha Asim, Staff Writer
Misha Asim loves to hang out with her friends whenever she has the time and loves watching shows on Netflix. She enjoys hanging out with her sisters and...