Culinary Arts Teacher Mr. Perdomo joins Becton faculty
Mr. Eduardo Perdomo has started out the new year at Becton Regional High School as a culinary arts instructor, who has focused on helping students concoct recipes, convert measurements, and understand culinary jargon.
"My teaching philosophy includes hard work and dedication," he said. Making sure all the students understand a concept before moving on and getting the opportunity to implement hands-on learning are his favorite parts of the profession.
Before joining the Becton Regional High School staff, Mr. Perdomo earned a master's degree in teaching and certification in food service education, a bachelor's degree in food service management, and an associate degree in culinary arts all from Johnson & Wales University in Rhode Island. Furthermore, he graduated from Teaneck High School, where he participated in a culinary program called Family Career and Community Leaders of America. FCCLA is an organization that encourages teamwork for those interested in pursuing a career in the culinary arts/food service industry.
The newest faculty member is very passionate about food and enjoys sharing his excitement with students. "There's something about teaching kids, having them understand what needs to get done, and then helping them achieve success," he said.
To date, he has taught his students to make meals such as omelets and couscous with vegetables and properly prepare chicken. Those enrolled in his classes also made some sweet treats such as chocolate chip cookies and triple chocolate brownies, which were then shared at Becton's annual elective fair.
The culinary instructor's favorite food to prepare is Hispanic cuisine; however, he likes to put his own technique and art into it. "I also prefer French cuisine because that is where the food originated," he explained.
Junior Jeanette Jimenez, who is enrolled in the Culinary 3/ProStart course, stated, "I feel like his way of teaching makes me feel professional and as if I'm in a fast-paced restaurant kitchen."
"I like the way he teaches because he puts passion in what he loves to do, and that's a thing I look for in a teacher. I feel like he enjoys teaching and educating students to the best of his abilities. I can't wait to enroll in Culinary 2 and 3," said Sophomore Sebastian Castillo, a Culinary 1 student.
Additionally, Senior Misha Asim, who takes Culinary 2, said, "He takes our input into consideration when it comes to making recipes, and his classes are fun, which makes cooking fun."
Mr. Perdomo described his first day at Becton Regional as welcoming, friendly, and family-oriented. "Mrs. Cannarozzi, a supervisor at the high school, took me in like a mom and helped me out with getting to know the system," he said. "Working as a culinary arts teacher is different because no one is getting paid to be here, but the kids choose to be here. It is nice to see everyone ready to learn," he added.
During his spare time, Mr. Perdomo enjoys watching the Dallas Cowboys, playing Madden, watching anime, and listening to music. He also takes pleasure in cooking for his family and for his wife.
As far as what he expects to get out of his first year of teaching, the Becton instructor stated, "a solid formula for success for me and my students."
About the Writer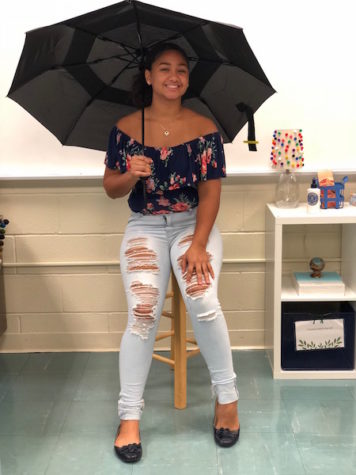 Samirah Reyes, Staff Writer
Samirah Reyes is a 15 year old sophomore who attends Becton Regional High School. She enjoys playing both volleyball and basketball at school. Her favorite...