April Student of the Month: GaHyun Yoo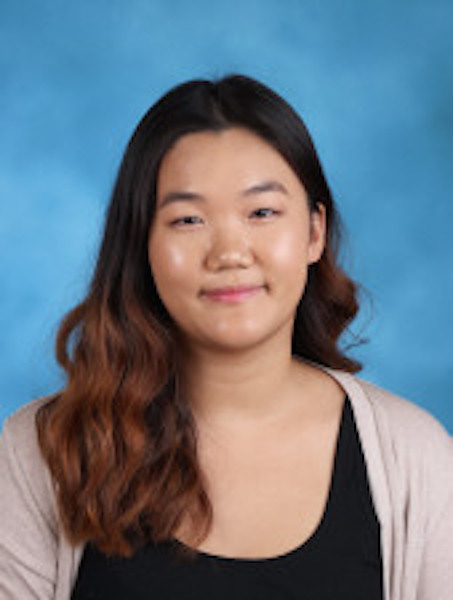 Senior GaHyun Yoo has been chosen as April Student of the Month due to her hard work inside as well as outside of the classroom.
"I feel very honored that I have been chosen as April Student of the Month by our school's faculty. Is is such a valuable title to me because my hard work has been recognized by others," she stated.
An activity in which the senior has participated throughout her high school career is debate. She noted that debate has helped her improve her writing skills and speaking publicly has helped her ability to multitask. "I remember my first debate clearly. I felt very anxious, but it was actually very interesting, and it has helped me learn a lot about different topics," she said.
As a Becton debater, GaHyun has won two Most Valuable Judge awards from the Bergen County Debate League and was also able to attend Yale Model Congress as well as Penn Model Congress.
This year, GaHyun has made the decision to join the Career Exploration Internship Program to work alongside the district technology coordinator, Mr. Gbaguidi. She explained how she has always had an interest in technology and computers but was never given the right opportunity to explore her interest. "This internship has definitely opened up my eyes in the field of information technology, which is why I intend to minor in computer science or information technology in college."
Outside of school, GaHyun enjoys babysitting because she likes spending time with children. Furthermore, in the past, she has worked at Kumon, a tutoring enrichment center, which helped her realize that a career in education was the right path for her. "I love teaching, and it gave me such pride when I saw improvements in children."
She also volunteers whenever she gets the opportunity to do so. She has participated in the Community Playhouse and Sing into the Sunlight, which is a suicide prevention organization that has been developed locally.
GaHyun has committed to Rutgers-New Brunswick and plans on majoring in education with a minor in political science and computer science. After earning a bachelor's degree, she plans on becoming a secondary mathematics instructor or possibly attending medical school. "Like a lot of people, I had different dreams that changed as I was growing up, but I've always had a dream of becoming a teacher or a doctor. Even now, I feel unsure of what I should do out of the two options, so I plan on studying information related to both career paths. At the end of the day, I want to pursue a career that can help other people while I can enjoy doing the job as well."
Some aspects that motivate the April Student of the Month to succeed are the passions and goals she has set for herself. However, one of the biggest challenges GaHyun has faced academically is time management. She finds it difficult to balance her academics, school activities and social life all at once.
The April Student of the Month continued to mention that one of her favorite classes at Becton is Holocaust, which is taught by Mr. Ryan. She enjoys the class due to the fact that Mr. Ryan not only focuses on what has occurred during the Holocaust but also manages to find a way to relate the material to the students and their morals.
"Mr. Ryan is definitely one of my favorite teachers because he made me realize history isn't boring. He makes all of his classes so interesting and so relatable to today that you can't be bored in his class."
In addition, she also enjoys Physics of Engineering and Calculus Honors. "I personally love math and science because both courses are challenging yet fun."
Last but certainly not least, someone GaHyun looks up to and considers a role model is her father. He has been her role model since she was a child. " I don't think I have met anyone who is so intelligent and so kind to others. He has always been the biggest supporter of mine, and I am so thankful for him."