Summertime and the living ISN'T easy
With summer right around the corner, many students are left scrambling for jobs while faculty and staff take the time to reflect on the days when they used to work during the hot days of July and August just for some spending money.
The principal of Becton Regional High School, Dr. Sforza, took on several jobs during the warm weather months such as being a cashier/stock person at the Rag Shop Fabrics and Crafts in Edgewater and Modell's Sporting Goods, and a busboy at a restaurant in New York City.  He also once took on a small job as a construction worker.
"My friend helped me get the construction job. For the other ones, I applied and interviewed for them," he said.
Although he was very grateful for his jobs and the experience they came with, he jokingly stated that he did not like putting away the hundreds of returns at the Rag Shop at the end of each late work night.
Dr. Sforza mainly saved up his money for a car as well as for other smaller items such as a new shirt, a pair of jeans, or sneakers.
Moving on, English Teacher Mrs. Scalera said that she spent numerous summer hours as a camp counselor for the Fairfield Recreation Center. She also landed the job as a lifeguard for the Fairfield pool.
"I took many lifeguarding classes to become certified and then applied for the job," Mrs. Scalera stated.
"One of my most intense moments working there was saving a three year old that was drowning. His whole face was blue," she shared.
The English teacher loved being a lifeguard and camp counselor. She explained that it was a great experience, and it helped prepare her for a future with children.
"I got tan, was by a pool, and I was outside all day. That was easily my favorite part about it," she added.
The Becton teacher spent her well-earned money on items such as food and gas for her car. She also saved up money to pay for her activities during her senior year in high school and for her future years in college.
Also working as a lifeguard was History Teacher Mr. Kuhns. He spent the hot months of July and August as a teenager working poolside in Berkley Heights. During his later years as a teenager, he was promoted to pool manager at the Forrest Hill Country Club. He also mowed lawns around Long Hill Township.
"My friends convinced me to work as a lifeguard with them. I took the classes and shortly after became certified," Mr. Kuhns said.
He added that he liked these jobs because he enjoyed being outside, especially in the summer. He also became close with his coworkers.
"Once I was old enough to get a job, I saved up almost all of my money throughout high school because my parents didn't really give me a lot of spending money," Mr. Kuhns said.
The history teacher spent most of his summer money on food such as buying lunch while at work, and he saved up enough money for a car as well.
Last but not least, Physical Education Instructor Mr. Settembrino took on various jobs during his teen years. Along with delivering pizzas for New York Pizza in Rutherford, he delivered bread for his father and had a job working in the field of construction.
"My brother took on the job of delivering bread and when he left, I felt like I needed to step in," he said.
He got his job delivering pizzas because his father stopped there frequently for bread deliveries. The construction job was given considering it was his father's company.
"Delivering pizzas was great because of all the money I was making. Two things I didn't like about delivering pizza though were the tough hours and my car constantly smelling like pizza," he mentioned.
"Bread delivery was the most challenging job. I had to wake up at 3 a.m. some days," he added.
Mr. Settembrino saved up some of his money for car insurance. He spent the other half of his money on food, gas, and gifts for his girlfriend.
---
Several other staff members who held summer jobs are listed below. Can you match the name with the job?
Mr. McNerney
Mrs. Klamerus
Mr. Caprio
Mrs. Giacomarro
Mrs. Tabaka
Ms. O'Driscoll
A. Painting Curbs for the Carlstadt DPW
B. Drug City Pharmacy Cashier
C. Casa Del Sol Deli Worker
D. Roller Skating Rink Employee
E. Secretary at Scrap Metal
F. Babysitter
About the Writers
Jana Christiano, Staff Writer





Jana Christiano is 16 years old and is a junior at Becton Regional High School. Jana enjoys hanging out with her friends and family during her...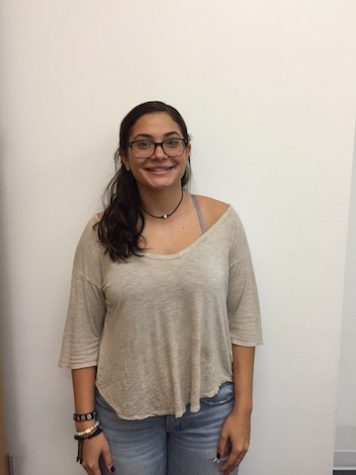 Jessica Coleman, Staff Writer
Jessica Coleman is a junior at Becton. She enjoys watching Bob's Burgers and sleeping. She likes to hangout with friends and her dog. She also enjoys...