Senior art student, Beneduci, wins first place award at Teen Arts Festival
Seniors Gonzalez and Monterrosa receive special recognition
Becton's art and music students attended the annual Teen Arts Festival trip on May 19.
Teen Arts, a New Jersey statewide festival,which takes place at Bergen Community College in Paramus, celebrates the art created by teenagers and other professional artists. It focuses on acknowledging work from all literary, performing, and visual art by showcasing a person's work. All creative pieces displayed during the event have been nominated by a person's home county where his or her work has been categorized as unique and exemplary.  
Students enrolled in Becton's music program, as well as the art and digital photography classes, were given the opportunity to attend the trip by submitting an essay, which stated why they would like to participate in the event. Other students were also chosen to attend based on their outstanding compositions completed in class.
Students participated in programs at the Teen Arts Festival throughout the morning and afternoon, where they spent their time attending various workshops on creative writing, dance, music, and art, as well as many others. Other participants watched musical performances, and Becton's choir was given the opportunity to perform themselves, and afterwards, they were critiqued by judges.  
Art Teacher Mrs. Savincki stated that the event "gives students a chance to see what other type of art is out there and other mediums they could use" and continued by mentioning that "a lot of them are very talented students, so this is a good outlet for them."
A special congratulations goes to Senior Gina Beneduci who won first place for her graphite drawing, which will be displayed in the administrative building next to the Hackensack Courthouse.
"I was very excited to see the judges had chosen my piece. It's a very gratifying feeling knowing that my hard work paid off," expressed Gina.
The Becton senior plans to continue expressing her passion for artwork at Parsons School of Design where she will be studying graphic design as well as illustration.
Two Becton seniors, Matthew Gonzales and Francesca Monterrosa, also gained special recognition for their artwork during the event. Francesca Monterrosa's drawing was a contour of a Cyborg, a half human half robot character. She also shared that her favorite part of attending the Teen Arts Festival was perusing through the other artwork.
"It was cool to see how many talented artists there were out there," she said. "I had lots of fun, and I'm sure many of the music and art students got to enjoy it as well."
About the Writer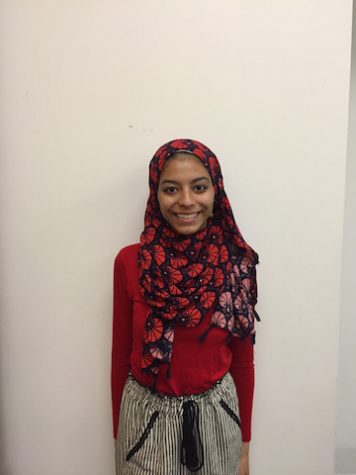 Sarah Tawfeek, Staff Writer
Sarah Tawfeek is a hardworking, creative individual. During her free time, one can find her reading, writing, and blogging about her favorite novels or...