Becton to launch new college credit program through Bergen Community
Beginning this fall, the Henry P. Becton Regional High School curriculum will include a new program that allows students to earn college credits through Bergen Community College.
Becton students are already familiar with an existing dual enrollment program that allows the juniors and seniors to earn credits from Bergen Community College by completing specific classes within the high school that are eligible for the program. With this current program, students have the ability to successfully earn college credits while also meeting high school requirements. Upperclassmen are charged a reduced tuition rate for each eligible course and can later transfer their credits to any New Jersey college or university that accepts them.
Beginning next year, Becton will also provide students with yet another opportunity to earn college credits through a new program called BCC Prep. Through this, seniors can take courses at Bergen Community College with other college students where they can earn up to nine credits per semester, which can add up to 18 college credits at the end of the school year. Participating seniors will attend their high school classes in the morning and take the college courses from 12:30 p.m to 2:00 p.m, making it back to school just in time for any other activities in their schedule. 
"
It's an opportunity to get a jumpstart on their college careers…"
— Mr. Caprio
"It's almost like a hybrid off of our internship program where kids leave after the morning classes, and they go to internship. For this, kids are going to leave and they're going to go take classes at Bergen Community College," stated Supervisor of Guidance Mr. Caprio.
Besides the fact that students will be traveling to the Bergen Community campus to take the courses, participants will also have to pay the regular college rate for each course. Also, there is no minimum SAT score or GPA requirement for BCC Prep classes. Instead, students will have to take the ACCUPLACER, a basic skills placement test at the end of their junior year. The level of the score that the student earns will determine his or her BCC Prep Program for both fall and spring semesters of their senior year in high school.
In order to participate, interested students will need their parent to sign a waiver that states they can leave the Becton campus and that it is the student's responsibility to get to the Bergen Community campus. Those who plan on attending a four-year college are welcome to participate in the program even though it is geared more towards those who plan to attend Bergen Community College first.
"It's an opportunity to get a jumpstart on their college careers, especially for the students that want to go to Bergen Community because they can work their way right into the college and get a lot of their credits towards their associate degree out of the way," noted Mr. Caprio.
A former college professor of Mr. Caprio's, Dr. Eichanholtz, directs these programs through Bergen Community and worked with him to get such programs started at Becton. He suggested that the supervisor of guidance offer students the opportunity to experience taking classes on an actual college campus or in an atmosphere for higher learning.
"From internship to dual enrollment and now BCC Prep, we felt this was just another thing to benefit our students," he said.
If students are interested in taking part in the BCC Prep Program during their senior year or have any questions, comments, or concerns, they can reach Mr. Caprio by stopping by his office in the guidance department or they can contact him via email at [email protected].
About the Writer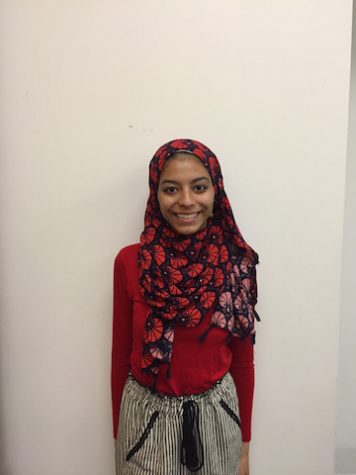 Sarah Tawfeek, Staff Writer
Sarah Tawfeek is a hardworking, creative individual. During her free time, one can find her reading, writing, and blogging about her favorite novels or...