Becton High School Students Accepted into Top Colleges
In today's educational climate, there have been many strides made in changing standards of achievement for America's students: the new SAT, Common Core Standards, the PARCC assessment, among many others. However, for most students, the real standard of achievement boils down to a single factor: college acceptances.
For Becton Regional High School, this standard of achievement has been met and exceeded. Not only has the school bolstered a nearly 10% increase in graduation rate– surpassing the state average of 89%– but students have also demonstrated their level of success by the caliber of the colleges they've been accepted to. Being accepted to prestigious schools such as Fordham University, Marist College, Rutgers University, The College of New Jersey, West Virginia University, Drexel University, Pennsylvania State University, New York University, Wesleyan College, Manhattan College, among many others, indicates that Becton graduates have what it takes to attend some of the most elite colleges in the country.
Although there were many academic reinforcements in this effort, there have also been many other motivating factors for students as well. Math teacher Michele Ferris has a tradition of encouraging Becton students to reach for their college dreams and celebrate their accomplishments. On Ferris' classroom wall, she endorses a huge display of college materials (posters, apparel, flags, etc.) from every college that every student has been accepted to during the school year. She states: "I started the college wall as another way to reach out to students. By showing an interest in them it developed more mutual respect between myself and them.  The biggest outcome was more motivation.  Even underclassmen stop off to see who was accepted and where the seniors are committing to. All college materials were brought in by the students themselves." This sense of pride and accomplishment in Becton's graduates resonates with students, staff, and administrators alike and creates a common goal for the entire school.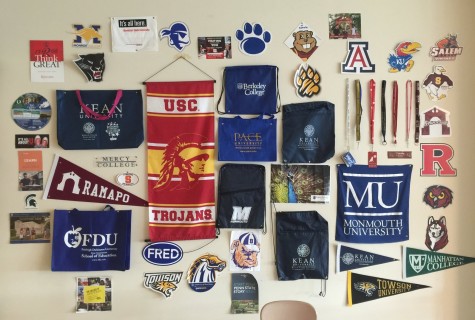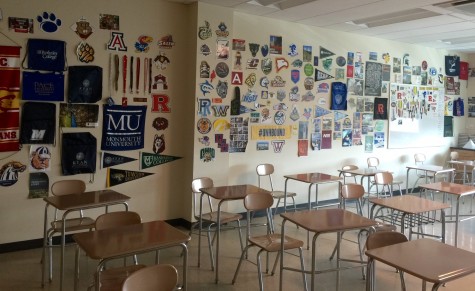 The growing success of Becton's students comes to no surprise when considering the recent improvements made to the school. Last year, the high school switched over to a flexible rotate- drop schedule, allowing more class time for students to learn as well as allowing students to take more classes and electives to grow their academic interests. The new schedule has allowed the school to offer many new, career-centered electives such as Web Page Design, Entrepreneurship, International Business, Marketing in the 21st Century, Forensics, and Criminal Justice.. Following the approximately $30 million renovation in 2013, the school also boasts state of the art labs and media equipment, aiding in student growth and productivity. Principal Dario Sforza best states why the environment at Becton has made such a huge impact on college acceptances:
"Although it is exciting to see the list of exceptional colleges and universities our students are being accepted to, it is certainly not a surprise. Becton students are not only intelligent, but are also extremely hardworking and motivated by the positive culture and learning environment that has been established here at Becton Regional High School. We hope to continue to capitalize on all the positive growth and continue to offer our students a progressive 21st century curricula that caters to their individual learning needs."
It is clear that although the school certainly demonstrates impressive changes on paper, the structural changes of the school are accompanied by a new mindset for students and staff, fostering a collaborative spirit focused on student-centered learning.
By looking at the list of college acceptances, it is clear that students have already reaped the benefits of the school's new offerings, but Becton is not stopping here. The school is determined to continue to move forward and is even looking to pilot a 1:1 initiative, giving students access to personal laptops that will enhance their class time productivity and research-based study. By cultivating college and career readiness opportunities for its students, it is clear that Becton is working hard to give students the tools they need to succeed in college. Although students have already proven that they can get into nationally-revered colleges and universities, the growing school culture will unquestionably ensure a bright future for all Becton graduates.
For full list of college acceptance, please see below:
Springfield College (Mass)
Albright College
Alvernia University
Anna Maria College
Appalachian State University
Arcadia University
Barry University (Fla)
Bentley University
Bergen Community College
Berkeley College
Bloomfield College
Bloomsburg University of PA
Boston University
Brevard College
Cabrini College
Caldwell University
Cazenovia College
Centenary College
Coastal Carolina University
College of Mount St. Vincent
College of St. Rose
CUNY Hunter College
CUNY John Jay College
Curry College
Daytona State College
Delaware Valley University
Dominican College
Drew University
Drexel University
Duquesne University
East Stroudsburg University of PA
Emory University
Endicott College
Fairleigh Dickinson University
Felician College
Flagler College (Fla)
Florida Gulf Coast University
Florida Institute of Technology
Florida International University
Fordham University
Gannon University
Georgian Court University
High Point University
Hobart & William Smith College
Hofstra University
Howard University
Husson University (Maine)
Indian River State College
Indiana University of PA
Iona College
Ithaca College
Kean College
King's College
Kutztown University of PA
Lasell College
Lehigh University
LIU Brooklyn
LIU Post
Loyola University-Maryland
Lynchburg College
Manhattan College
Marist College
Marywood University
Mass College of Pharmacy
Mercy College (NY)
Mercyhurst University
Merrimack College
Monmouth University
Montclair State University
Moravian College
Mount Ida College
Mount Saint Mary's University
New England College
New Hampshire University
New Jersey City University
New Jersey Institute of Technology
New York University
Ohio State University
Pace University NYC
Pace University- Westchester, NY
Pennsylvania State University
Pratt University
Quinnipiac University
Ramapo College of New Jersey
Rider University
Rochester Institute of Technology
Roger Williams University
Rowan University
Rutgers University- N. Brunswick
Rutgers University- Camden
Rutgers University- Newark
Sacred Heart University
Saint Peter's University
San Diego State College
School of Visual Arts- NYC
Seton Hall University
St. John's University
St. Peter's College
St. Thomas University (Fla)
Stevens Institute of Technology
Stockton University
Stonehill College
SUNY Alfred
SUNY Delhi
SUNY Stony Brook
Susquehanna University
Syracuse University
Temple University
The Art Institute of Austin
The College of New Jersey
Towson University
Trinity College
University of Alabama
University of Albany
University of Bridgeport
University of Buffalo
University of Connecticut
University of Delaware
University of Hartford
University of Maine
University of Maryland-College Park
University of Massachusetts- Amherst
University of Massachusetts- Boston
University of New Hampshire at Durham
University of New Haven
University of Rhode Island
University of Scranton
University of South Carolina at Beufort
University of South Florida
University of Southern California: San Diego
University of Tampa
University of Tennessee
University of the Sciences
University of Connecticut
Vaughn College (Fla)
Wentworth Institute of Technology
Wesley College (Delaware)
Wesleyan College
West Chester University of PA
West Virginia University
Western Connecticut State University
Western New England University
Wilkes University
William Paterson University
York College