Becton named Top 100 Best School Districts in the state of NJ

The Becton Regional High School Community is proud to announce that the Carlstadt-East Rutherford Regional High School District has been voted one of the 100 Best School Districts in the state of New Jersey. Niche, a company founded by a Carnegie Mellon University student, ranks school districts based on teaching statistics while also taking into account ratings from students and parents.
Principal Dr. Sforza was proud to hear Becton made the Top 100 list and stated, "This acknowledgement is a testament to the excellent teaching and learning, wonderful and hardworking student body, state-of-the-art facilities, competitive extracurricular and athletic program and progressive school improvement initiatives we have implemented the past year."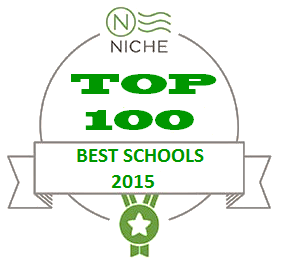 Thousands of school districts in New Jersey were evaluated based on a dozen statistics and 240 thousand student and parent reviews. Several factors that Niche considers include academics, administration and policies, educational outcomes, extracurricular activities and resources and facilities.
Superintendent Mrs. Clarke was not surprised when she heard of Becton making the Top 100 list, stating, "We have continually highlighted how Becton is one of the most well-rounded high schools in the county and the state, and we are proud that our hard work is being recognized for not only our tradition of excellence in education, but also for our student and program diversity and our overall positive educational climate."
According to the Niche web site, a high ranking "indicates that the district contains great schools with exceptional teachers, sufficient resources and a diverse set of high achieving students who rate their experiences very highly." Fortune.com noted that "Niche also uses data from the Department of Education — like reading and writing test scores — to rank high schools in the same state against one another."
The Becton Regional High School staff and administrative team look forward to providing students with the best overall educational experiences as they continue to meet their individual needs and prepare them for the college and career challenges the students will face after high school.