Give your wallet a spring 'break'
With spring break impending, now is the time to start piecing together an itinerary. While some people are lucky enough to go away on vacation with their families, some of are stuck with a few bucks in their pockets and limited transportation.
Below you will find a list of inexpensive activities for spring break in the New Jersey/ New York City area.
If one really does not have the extra cash to splurge, there are numerous free locations such as Times Square, Central Park or Soho. However, if you do have some cash saved up here are a few inexpensive yet memorable, places to visit.
One of New York's most famous family attractions is Madame Tussauds Wax Attraction. The Museum chain for life-size wax replicas are widely known for their famous figures. Some of the most popular ones include Barack Obama, Jennifer Aniston, the Royal Family, One Direction, Katy Perry, Taylor Swift, and Marilyn Monroe. The museum is located on 234 W 42nd St, New York, NY 10036 and is open Sunday to Thursday from 10 a.m. to 8 p.m. and Friday and Saturday from 10 a.m. to 10 pm. Adult tickets are $29.60 and kids can get in for $24.00
Gossip Girl, one of America's most popular television dramas known, has a tour located in New York City. The Gossip Girl Sites Tour picks interested particpants up at 51st St and Madison Avenue and takes them to some Gossip Girl hot spots including the Vera Wang boutique where Blair bought her wedding gown, the candy store where Dan and Vanessa shopped, the Met Steps for a photo op, and the last stop is Constance Billard's and St. Jude's schools. The tour is open on Fridays, Saturdays, and Sundays at 10 a.m. Tickets are $43 with a $2 ticket fee.
Moreover, the American Museum of Natural History is a very popular attraction for both tourists and locals alike. Some of the exhibits include Biodiversity and Environmental Halls, Birds and Reptiles and Amphibians Halls, Earth and Planetary Sciences Halls, Fossil Halls, Grand Gallery, Human Origins and Cultural Halls, Mammal Halls, Rose Center for Earth and Space, Theodore Roosevelt Memorial, and Discovery Room. It is located on the Upper West Side of Manhattan, New York City in Central Park West & 79th St, New York, NY 10024. The museum is open daily from 10 a.m. to 5:45 p.m., and the suggested general admission is $22.
Moving on, a couple things people could find themselves doing in New Jersey during spring break are going to Six Flags, the zoo, and state parks. There are also a couple of activities that people could visit that would not be of cost. Down in Seaside you could walk the boardwalk, relax on one of the only free beaches in the state in Wildwood, and visit the Cape May Zoo for no additional price.
Six Flags Great Adventure is New Jersey's biggest theme park. It features dozens of rides, shows, and activities. Some of the rides featured at the park are Bizarro, El Toro, and Kingda Ka, and for spring break there will be a special which includes two passes for $74.99.
Another amusement park one could visit on his or her break is Morey's Piers. This is a classic Seaside park, located on The Wildwood's boardwalk in southern New Jersey. Some of the highlights from this amusement park are the Sea Serpent, Ghost Ship, Maelstrom, and Sunny's Lookout Lighthouse. Admission is only 55 dollars for adults and 45 dollars for children.
Finally, free of charge is the Cape May Country Park and Zoo. Home to over 500 animals. Some of the wildlife featured are a snow leopard, African lion, alpaca, and a giraffe. This is a great place to take family and friends, and the zoo is open from 8:00 a.m. to 3:45 p.m.
So next time you look in your wallet and feel like you are forced to stay home, think again because there are plenty of inexpensive attractions to last you an entire week.
About the Writer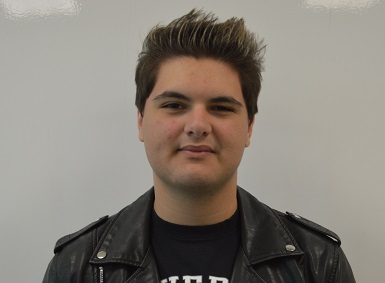 John Rotella, Staff Writer


During John's spare time he enjoys writing and publishing novels to Wattpad, drinking Starbucks, attending concerts, and binge watching television...